WASHINGTON – There's bipartisan problem solving, and then there's this picture: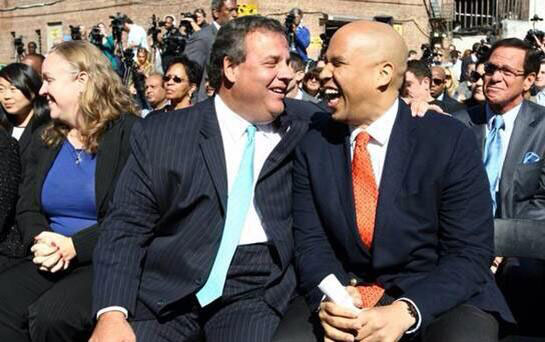 Yes, most Americans want their public officials to put aside party bickering and just get things done, and it's no secret that Newark Mayor Cory Booker and Gov. Christie have had a strong working relationship.
But with two big New Jersey elections just weeks away, the two political stars raised some eyebrows and drew some skeptical questions when they shared the spotlight Wednesday at a ribbon-cutting for a major Newark development.
Especially when Booker opened by saying, "I want to give some Guv love right now."
After all, Booker has vowed to help Democrats defeat Christie in six weeks. Christie has vowed to help Republicans beat Booker in three.
Yet here they were, giving each other a big bipartisan talking point. They'll each see the benefits – Booker showing how he can work across the aisle to help revitalize his city, Christie showing that he's a Republican who still cares about Democratic-heavy cities – but they also provided a big, positive moment to a candidate who their party is at this very moment trying to defeat.
(The photo also inspired a caption contest from Inquirer colleague Matt Katz.)

Booker saw nothing overtly political. He told the Inquirer's Andrew Seidman "We've been working together for years. I'm not going to suddenly stop working with him just because it's election season."
Which makes sense. Booker leads the state's largest city and Christie runs the state – cooperation helps them both do their jobs better and could benefit many New Jerseyans.
A cynic might argue, though, that a symbolic event like a ribbon cutting could just as easily be held in, say, two months – after Election Day has passed. It's not like Christie and Booker made the deal to support this development that day, and it's a safe bet that the developers would wait on the two biggest political names in the country. Working together doesn't necessarily entail holding a huge public event sure to attract press from across the state.

Christie's office clearly loved the optics. It sent out multiple e-mail blasts highlighting the event.
One included the picture above. One came with "Guv Love" in the headline.
Now, it's unlikely that a ribbon cutting will change the ongoing elections. Booker and Christie are both big favorites, with or without Wednesday's event. But they each seem to harbor much bigger ambitions, and each has already faced criticism for not being a team player: Christie for his famous embrace of President Obama after superstorm Sandy, Booker for his defense of Bain Capital last year and for his continued alliance with Christie, who Democrats have hoped to damage, even if they can't beat him this year.

Democrats who ran against Booker in the Senate primary chided him for using his star power not to counter the governor's political might, but to join with him. National Republicans eyeing Christie for the 2016 presidential race have wondered if he is faithful enough for the party's base.
For their parts, the party colleagues Booker and Christie have pledged to help – Democratic gubernatorial candidate Barbara Buono and Republican Senate candidate Steve Lonegan – didn't raise any objections.
"He's the governor, that's what he does," Lonegan told PolitickerNJ. "Gov. Chris Christie made a very clear point today, which is that Cory Booker cannot govern Newark without the governor's help."
Buono spokesman David Turner wrote in an e-mail, "Future Sen. Booker has been a steadfast supporter of Sen. Buono and has repeatedly stated that she is the best choice for New Jersey's working families."
Indeed he has. And Christie has stood alongside Lonegan to endorse him and has raised money for him in at least two events.
But neither Buono nor Lonegan can brag about having a picture quite like this one.
---
You can follow Tamari on Twitter or email him at jtamari@phillynews.com.