Jonathan Tamari
Pennsylvania Sen. Bob Casey was outside the Capitol when the shooting began on the Hill today – he and nearby tourists were ordered to crouch by a car for their safety, he told reporters in Washington.
"We heard three, four, five pops," Casey said, according to the AP.
He later released this statement:
Jonathan Tamari
By Jonathan Tamari / Inquirer Washington Bureau
WASHINGTON – U.S. Rep. Jim Gerlach, a Republican from Chester County, on Wednesday became the latest GOP lawmaker to call for a "clean" spending bill to open the government, saying that phone calls and e-mails from his constituents show that a solid majority wants to end the shutdown.
Gerlach is now the fifth Republican from the Philadelphia area to break with House leadership on the fight involving government spending and President Obama's sweeping health law.
Jonathan Tamari
WASHINGTON – Newark Mayor Cory Booker raised $2.85 million for his Senate campaign in the last two months, according to his campaign.
The Democrat has raised an impressive $11.5 million since January, but is down to $2.63 million cash on hand for the final two weeks of the campaign. Still, Booker has a significant edge over Republican Steve Lonegan, who had $241,282 on hand as of the latest report, according to my colleague Andrew Seidman.
(Gannett's Mike Symons points out that Booker can't spend all $2.6 million now, though -- some of it was raised for the 2014 Senate race and can't be used now.)
Jonathan Tamari
By Jonathan Tamari
UPDATED below
WASHINGTON – Frank LoBiondo, a longtime Republican Congressman from the Atlantic City area, said Tuesday morning it's time for his colleagues to develop a new strategy in the ongoing shutdown battle, signaling that he might break from conservatives who insist that any bill to fund the government must include changes to Obamacare.
Three other Republicans from the Philadelphia suburbs -- U.S. Reps. Pat Meehan, Mike Fitzpatrick and Jon Runyan -- all also said Tuesday they would back a "clean" spending bill that funds the government without any other policy demands, as President Obama and Democrats have insisted on. U.S. Rep. Charlie Dent, a Republican from Allentown, backed that approach Monday, meaning five House Republicans from the area have now backed a change of course, though the GOP's most conservative bloc is pressing to continue the fight.
Jonathan Tamari
WASHINGTON – Congressman Charlie Dent's push for a House spending bill that would keep the government running with no strings attached -- and no attept to alter Obamacare -- hasn't won over House Republican leaders.
Dent, a moderate Allentown Republican, has been trying to round up votes from middle-ground Republicans and Democrats for a "clean" spending bill that would fund government operations before tonight's midnight deadline. (see below for more).
But House Speaker John Boehner (R., Ohio) said "that's not going to happen."
Jonathan Tamari
WASHINGTON – U.S. Rep. Chris Smith, a South Jersey Republican, blasted President Obama and his health care law as the federal government hurtled toward a shutdown Monday afternoon.
"The president has not acted like an adult," Smith said after a meeting of House Republicans.
Jonathan Tamari
WASHINGTON – Local members of Congress split along party lines early Sunday morning as House Republicans passed a short-term funding bill that was immediately rejected by Democrats, building momentum toward a shutdown beginning Tuesday.
House Republicans advanced a spending bill just after midnight Sunday morning that would fund the government through Dec. 15, preventing a shutdown, and also delay Obamacare by a year, repeal a tax on medical device manufacturers, which helps fund the health law, and eliminate a provision that requires employer-provided health plans to cover birth control.
Jonathan Tamari
WASHINGTON – There's bipartisan problem solving, and then there's this picture: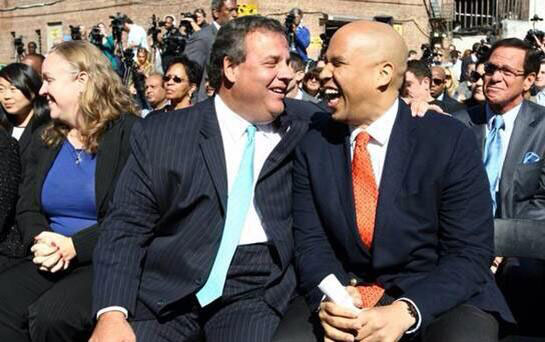 Yes, most Americans want their public officials to put aside party bickering and just get things done, and it's no secret that Newark Mayor Cory Booker and Gov. Christie have had a strong working relationship.