Jonathan Tamari
WASHINGTON – Senate Democrats plan to introduce a package of bills today to tighten gun laws – and pile pressure on vulnerable Republicans -- but Pennsylvania Sen. Pat Toomey, who in 2013 was a key Republican on the issue and faces re-election next year, said Thursday he was worried about the "partisan" effort now being advanced.
"While I welcome the renewed interest of my senate colleagues in this critical issue, I worry that a partisan and unbalanced approach will receive even less support than the 54-vote majority the Manchin-Toomey amendment received," Toomey said in a statement Thursday morning, ahead of a Democratic news conference. He was referring to the bill he co-sponsored with Sen. Joe Manchin (D., W. Va.) that would have expanded background checks in the aftermath of the 2012 Sandy Hook School hooting.
A spokeswoman said Toomey was not consulted on the new Democratic-led push.
Jonathan Tamari
WASHINGTON – Democrat Katie McGinty raised slightly more than $1 million in her first two months since entering the Pennsylvania Senate race, her campaign said Wednesday in its first show of financial strength since she joined the contest.
McGinty's total, with the help of some of Pennsylvania's most prominent Democratic voices, tops the best quarter rival Democrat Joe Sestak has posted to date: $728,000 from April through June.
Democratic insiders had been eyeing McGinty's haul as a first test of whether she could mount a credible campaign to win the Democratic nomination against Sestak, a former Delaware County Congressman, and Braddock Mayor John Fetterman. They are competing to take on incumbent Republican Sen. Pat Toomey next year.
Jonathan Tamari
WASHINGTON – New Jersey Sen. Cory Booker is part of a broad coalition of lawmakers introducing a sweeping criminal justice reform package this morning, hoping to cut mandatory minimum sentences, better prepare inmates for life after prison time and improve the chances for those leaving incarceration.
"After years of the justice system being broken, we're announcing a solid step forward toward reform," Booker, a Democrat, said in an interview ahead of a 10 a.m. news conference. He called the bill, negotiated with Democrats and Republicans, "a number of really good strides on a much longer journey."
Criminal justice reform has been Booker's top priority since joining the Senate. At a press conference with four other Democrats and four Republicans, he said that even though it's not senatorial he wished he could hug the rest of the group on stage.
Jonathan Tamari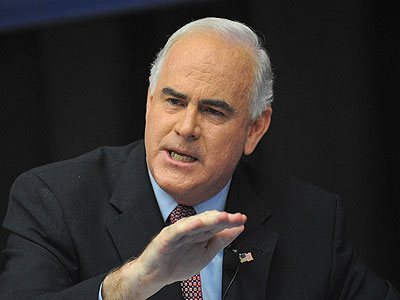 WASHINGTON – Two Pennsylvania Republicans are pushing a bill that could stop the international nuclear deal with Iran deal unless the country pays $43 billion it owes U.S. victims of terrorism – prompting a veto threat Wednesday from the White House.
Rep. Pat Meehan, of Delaware County, is nonetheless expecting the House to pass his proposal as soon as Thursday. His plan would bar President Obama from lifting sanctions on Iran until it pays restitution for terrorism it sponsored. Sen. Pat Toomey (R., Pa.) introduced a companion bill in the Senate.
"Why was this never a term that was included in the negotiations?" Meehan asked at a news conference Wednesday. "If this opportunity is squandered, in effect you'll have judgments that are unenforceable."
Jonathan Tamari
This post has been updated with comments from Sen. Toomey below:
WASHINGTON – Sen. Pat Toomey (R., Pa.) joined a handful of Senate Republicans Monday in voting to block a bill that would keep the government running while continuing to fund Planned Parenthood.
Toomey initially voted to advance the measure over a key procedural hurdle, but later changed his vote to 'no,' bucking GOP leaders and centrists within the party, and leading Democrats to call him an "extremist."
Jonathan Tamari
WASHINGTON – A federal judge has dealt Sen. Bob Menendez a setback in his defense against corruption charges, denying nearly all of the New Jersey Democrat's motions to dismiss the charges or throw out evidence.
Judge William Walls dismissed four of the bribery counts against Menendez and his friend and political donor, Salomon Melgen. All of those charges were related to donations Melgen made to Menendez's legal defense fund, the Fund to Uphold the Constitution.
But Menendez's most ambitious motions – attempting to have the entire case thrown out for prosecutorial misconduct or violations of Constitutional protections for legislative activity -- were denied. He still faces numerous other charges: six bribery counts, one conspiracy count, one count of violating the travel act, three counts of honest services fraud and one count of making false statements.
Jonathan Tamari
WASHINGTON -- Gov. Wolf on Monday endorsed Katie McGinty, his former chief of staff, in the 2016 Pennsylvania U.S. Senate race.
McGinty is competing with former Rep. Joe Sestak and Braddock Mayor John Fetterman in the Democratic primary, and so far has lined up the most establishment support. They are running to challenge Sen. Pat Toomey (R., Pa.).
Wolf's backing of McGinty is no surprise.
Jonathan Tamari
WASHINGTON -- Gov. Christie will be in the House gallery watching Pope Francis' historic speech to Congress Thursday, courtesy of an invite from fellow New Jersey Republican, Rep. Tom MacArthur.
"I admire Pope Francis' faith and his compassion for the poor and needy. This is such an exciting time and I am happy so many residents from Burlington and Ocean Counties will be able to participate in this historic event," MacArthur, who represents a South Jersey district, said in a news release. "I am honored that Governor Christie will be my guest in the gallery, representing the great State of New Jersey."
Lawmakers were each allowed one ticket to the gallery for the speech, which has become one of the biggest draws in recent memory in Washington. Many gave the ticket to their spouses.
---