New Jersey continues to be the state with the largest "brain drain" of college students, according to new national data that lawmakers say is evidence of a systemic issue that needs to be addressed.
More than 30,000 New Jerseyans leave the state to attend college each year. Only California sees more residents go out of state for college, but almost as many out-of-state students choose a school in California.
In New Jersey, only a few thousand students enter the state for college.
"That's disheartening," said Assemblywoman Celeste M. Riley (D., Salem), the chair of the Assembly Higher Education Committee.
"One, we're losing the workforce; two, we're losing all of those dollars that go along with that student," she said.
By the broadest measure of migration — any first-time student in any degree-granting college — New Jersey sent 34,875 students to other states in fall 2012, receiving only 5,638 students in return.
Those numbers are similar to fall 2010, when 34,995 New Jerseyans left the state for college, and 5,451 people from outside the state came in to study.
The fall 2012 numbers were released late last month by the Department of Education's National Center for Education Statistics. Migration numbers are collected every two years.
A more specific measure, of the number of recent high school graduates enrolling in four-year colleges, has 30,878 students leaving the state and only 4,201 coming in.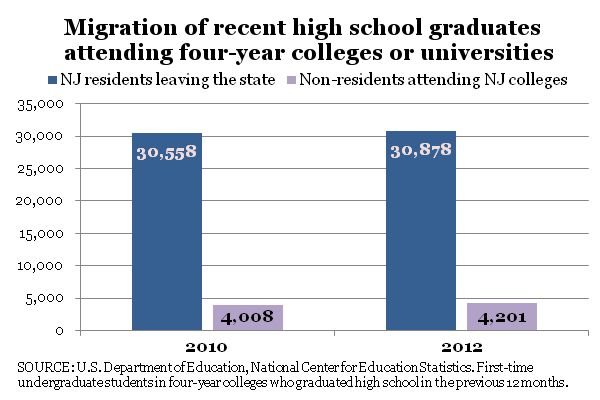 New Jersey's brain drain is a perpetual issue in a state that has a relatively small number of colleges surrounded by dozens of schools in the nearby Philadelphia and New York City areas.
"People in other states are competing with us, it's just a fact of life now," said Senate Minority Leader Thomas H. Kean Jr. (R., Union).
To compete, legislators are trying to increase the capacities at the state's (already full) colleges, increase the possibilities of transferring from two-year colleges, and create more jobs for those who have graduated.
"It's all part of an overarching approach to create more opportunities for kids in New Jersey," Kean said. "If you are able to create a real pressure on continued educational and employment opportunities in a coordinated approach, it's important for every generation."
In 2012, voters approved a bond referendum that, combined with other state funds, created a $1.3 billion pot for capital projects at the state's colleges and universities. One goal of that bond act — sponsored in part by Kean and Senate President Stephen Sweeney (D., Gloucester) — was to support projects expanding the colleges' capacities.
Concerns about brain drain go beyond schooling, Kean and Riley said, and ultimately becomes a workforce issue. Graduates often do not return home, instead staying near where they went to school.
"It becomes cyclical. If we lose that workforce, that potential workforce, then we're going to lose employers," Riley said. "And we won't be able to attract [new] employers."
However, Riley pointed to the recent budget battle as evidence of lawmakers' limited options.
"There is not enough that we can do right now because we're a state that [has] financial issues, so we can't give more money to our institutions of higher education, which they need, dearly, to beef up," Riley said.