Susan Snyder
It's been more than two years since former FBI director Louis Freeh issued his blistering report that accused Pennsylvania State University leaders of conspiring to cover up child sex abuse by former assistant football coach Jerry Sandusky.
Penn State's board of trustees has scheduled a special meeting for next week to look at that report anew and if some board members have their way, vote on whether the report should be accepted or rejected.
The board meeting is scheduled for 11 a.m. next Tuesday, Oct. 28, in Ball Room C of the Nittany Lion Inn for the purpose of discussing the report, said alumni-elected board member Al Lord. The meeting was scheduled at the request of Lord, who came on the board in July. Board members will meet in private before the public session, which will be streamed live on the university's website.
Jonathan Lai
The papers of renowned writer and Nobel laureate Toni Morrison have become part of the permanent collection of the library collections of Princeton University, where she was a professor for 17 years.
Among the papers are research notes, letters, photographs, and manuscripts and drafts of novels including The Bluest Eye, Song of Solomon, and Beloved. Morrison received a Pulitzer Prize for Beloved in 1988 and the National Book Critics Circle Award for Song of Solomon in 1977. In 1993, the Nobel Prize in Literature was awarded to Morrison, "who in novels characterized by visionary force and poetic import, gives life to an essential aspect of American reality." She was the first black woman to receive the prize.
The papers total about 180 linear feet of materials, the university said in the news release Friday afternoon announcing the collection.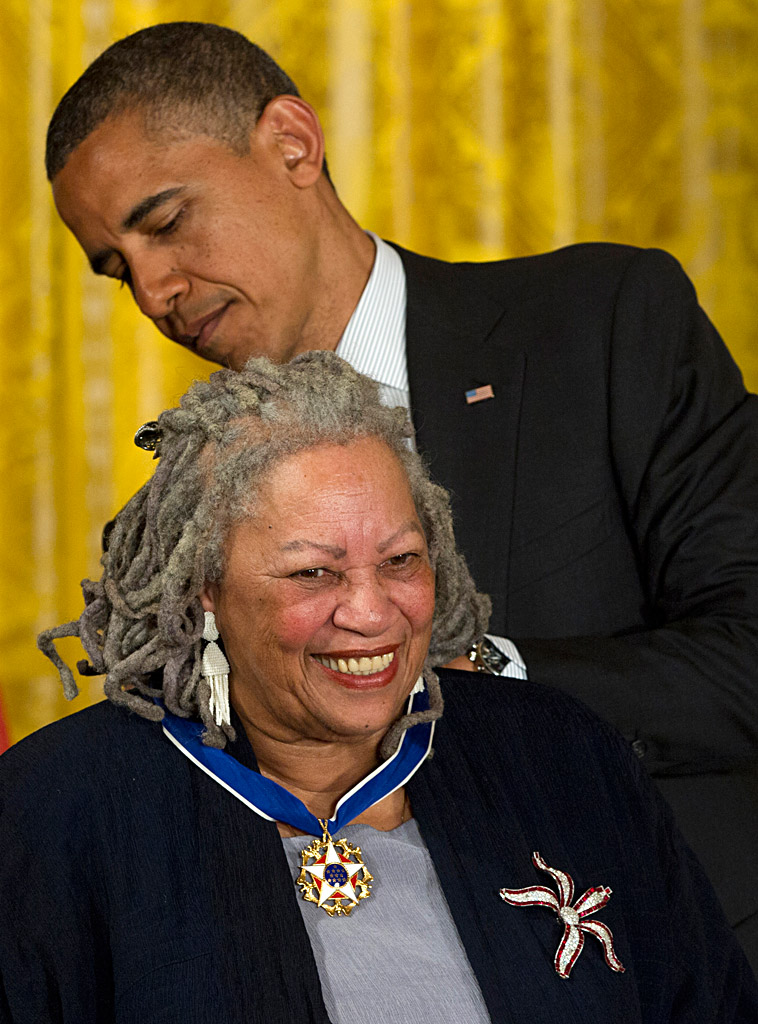 Toni Morrison receives the Presidential Medal of Freedom, the nation's highest civilian honor, from President Obama on May 29, 2012. (CAROLYN KASTER/Associated Press)
Susan Snyder
Lehigh University on Friday named a University of Virginia executive as its 14th president.
John D. Simon, 57, the executive vice president and provost at University of Virginia since 2011, will begin at Lehigh on July 1, Lehigh's board of trustees announced.
Simon, a chemist who specializes in the study of human pigmentation, will replace Alice P. Gast, who left Lehigh to become president of Imperial College London.
Susan Snyder
Drew Katz, son of late Temple University alumnus Lewis Katz, was elected by unanimous vote on Tuesday to fill his father's seat on Temple's board of trustees.
Lewis Katz, a lawyer, businessman, philanthropist and former co-owner of The Philadelphia Inquirer, died in a plane crash on May 31. He had served on Temple's 36-member board of trustees since 1998 and was the university's largest donor. Last November, he pledged $25 million to the university, and in May, Temple named its medical school after him.
Drew Katz, CEO of Interstate Outdoor Advertising, will serve a four-year term on the board and at his request will become a member of the board's athletic committee, which his father had chaired.
Susan Snyder
Sen. Vincent Hughes' proposed amendment to allow the governor to abolish the School Reform Commission was voted down in committee this afternoon, according to my colleague, Amy Worden.
Hughes, a Philadelphia Democrat who criticized the SRC last week for canceling the teachers contract and imposing health care contributions, introduced the legislation this afternoon at a meeting of the appropriations committee, of which he is Democratic chair, accoording to Ben Waxman, a spokesman for Hughes. It was included with a bill that deals with home schooling, he said.
The move came amid several calls for the panel to be abolished in the wake of the teachers contract dispute. Democratic Gubernatorial candidate Tom Wolf last week said he favors abolishing the SRC and replacing it with an elected school board.
Susan Snyder
Among 60 or so universities nationwide under scrutiny for the handling of sexual assault on campus, Temple University on Friday announced the creation of a special committee to look into the school's policies and practices and conduct a campus wide survey.
"Amid heightened national attention to sexual misconduct on college campuses," President Neil D. Theobald said in a campus email, "I want to ensure that Temple is providing the most effective services for the university community, following exemplary procedures for handling reports of sexual assault and related offenses, and promoting ongoing awareness of the university's policies and prevention efforts."
Pennsylvania State University, also under review by the U.S. Department of Education, said it would create a task force on the issue in July.
Jonathan Lai
Rowan University will split its commencement this year into six ceremonies held over four days, ending its tradition of a unified, universitywide commencement ceremony, the school announced Wednesday.
This is the first time in the school's history that it won't have the universitywide ceremony, a spokesman said, citing a lack of indoor venues for ever-growing enrollment.
The ceremonies will all be held on the University Green where past commencements were held. Rain locations would include Esby gym, Pfleeger Concert Hall, and Wilson Hall.
Jonathan Lai
Rowan University raised a total of $28.8 million last year for sponsored research, programs, and projects, school administrators told its board of trustees this week.
In an annual report, Rowan touted the 2013-14 number, an increase of 9.73 percent over the year before.
That number includes the School of Osteopathic Medicine, which Rowan absorbed from the now-defunct University of Medicine and Dentistry of New Jersey. That school's research accounted for more than $11 million last year. Of the university's homegrown units, including the Cooper Medical School of Rowan University and its main Glassboro campus, external funding increased 41 percent, to $17.8 million, from $12.6 million.