Susan Snyder
Ursinus College's board of trustees has appointed Lucien T. Winegar, its dean and executive vice president, to step in as interim president.
Winegar, who was appointed dean in April 2012, has been leading the college since the sudden death last month of President Bobby Fong.
Winegar, a former dean and psychology professor at Susquehanna University in Selinsgrove, has a bachelor's in psychology from St. Ambrose College in Iowa and a master's in education and child development and Ph.D in human development from Bryn Mawr College.
Jonathan Lai
High school students at Gloucester County Institute of Technology will be able to enroll at the Gloucester County community college next door in their senior years, under an agreement signed Friday between the two schools.
Known as the Gloucester County Institute of Technology Collegiate High School Program, the initiative gives GCIT students the option of earning up to 30 credits at Rowan College at Gloucester County during their senior year. Students would spend the day on the community college campus taking classes taught by that school's faculty.
With existing dual enrollment options to take courses for college credit, some students already are able to accumulate 30 credits their first three years of high school. The new program could mean racking up 60 credits by the time they graduate — finishing high school and an associate's degree at the same time.
Jonathan Lai
A five-year dual-degree program announced Thursday by Stockton College and Rowan University will allow students to receive bachelor's degrees from both institutions, spending three years at Stockton and two at Rowan.
The Richard Stockton College of New Jersey would award a bachelor of science degree in chemistry, mathematics, or physics after the student's fourth year, which would be spent at Rowan. After a fifth year, Rowan University would award a bachelor of science in engineering.
"Stockton's strengths in the sciences mold well with our engineering programs to the great benefit of students and the region," Ali A. Houshmand, Rowan's president, said in a news release. "This joint venture will increase access to prominent programs, enabling some of the best and brightest college students to stay here to earn degrees that open doors for them in high-demand fields. With two degrees, they will be uniquely prepared to work for leading technology-driven companies in New Jersey."
Susan Snyder
ACT will allow students whose exams were lost after taking the test at Upper Darby High School in September to take a retest for free on Nov. 1.
The test will be at Penn Wood High school in Lansdowne.
All 182 students also will receive a refund for the tests that were lost, said Ed Colby, a spokesman for the Iowa-based testing service.
Susan Snyder
It's been more than two years since former FBI director Louis Freeh issued his blistering report that accused Pennsylvania State University leaders of conspiring to cover up child sex abuse by former assistant football coach Jerry Sandusky.
Penn State's board of trustees has scheduled a special meeting for next week to look at that report anew and if some board members have their way, vote on whether the report should be accepted or rejected.
The board meeting is scheduled for 11 a.m. next Tuesday, Oct. 28, in Ball Room C of the Nittany Lion Inn for the purpose of discussing the report, said alumni-elected board member Al Lord. The meeting was scheduled at the request of Lord, who came on the board in July. Board members will meet in private before the public session, which will be streamed live on the university's website.
Jonathan Lai
The papers of renowned writer and Nobel laureate Toni Morrison have become part of the permanent collection of the library collections of Princeton University, where she was a professor for 17 years.
Among the papers are research notes, letters, photographs, and manuscripts and drafts of novels including The Bluest Eye, Song of Solomon, and Beloved. Morrison received a Pulitzer Prize for Beloved in 1988 and the National Book Critics Circle Award for Song of Solomon in 1977. In 1993, the Nobel Prize in Literature was awarded to Morrison, "who in novels characterized by visionary force and poetic import, gives life to an essential aspect of American reality." She was the first black woman to receive the prize.
The papers total about 180 linear feet of materials, the university said in the news release Friday afternoon announcing the collection.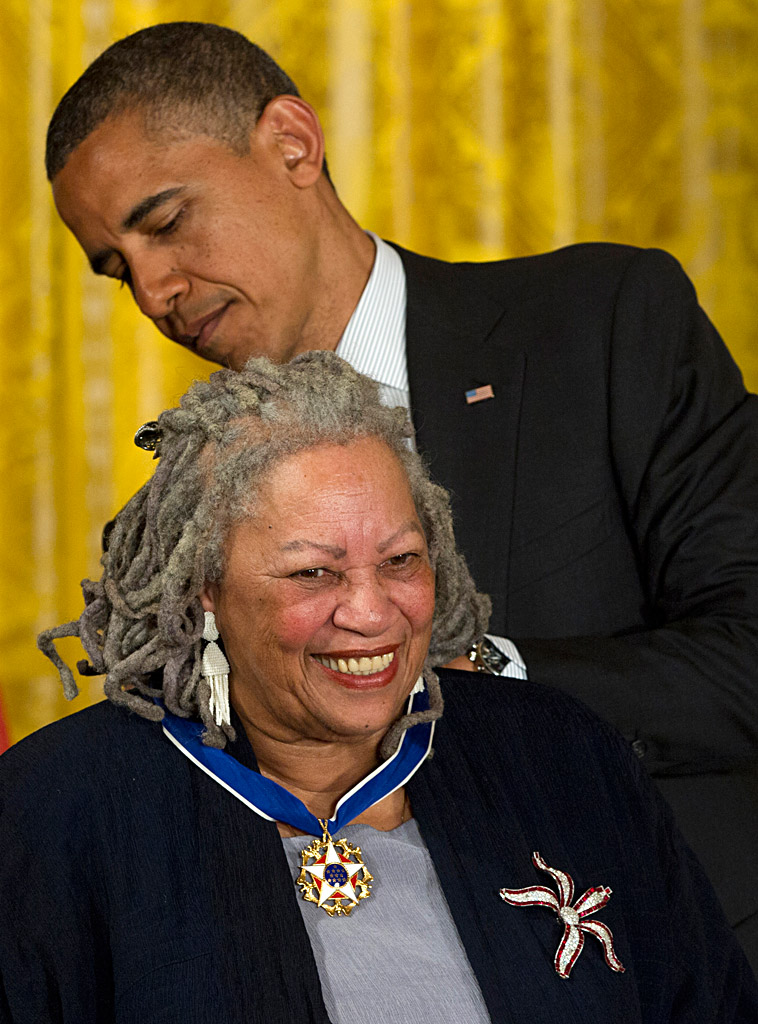 Toni Morrison receives the Presidential Medal of Freedom, the nation's highest civilian honor, from President Obama on May 29, 2012. (CAROLYN KASTER/Associated Press)
Susan Snyder
Lehigh University on Friday named a University of Virginia executive as its 14th president.
John D. Simon, 57, the executive vice president and provost at University of Virginia since 2011, will begin at Lehigh on July 1, Lehigh's board of trustees announced.
Simon, a chemist who specializes in the study of human pigmentation, will replace Alice P. Gast, who left Lehigh to become president of Imperial College London.
Susan Snyder
Drew Katz, son of late Temple University alumnus Lewis Katz, was elected by unanimous vote on Tuesday to fill his father's seat on Temple's board of trustees.
Lewis Katz, a lawyer, businessman, philanthropist and former co-owner of The Philadelphia Inquirer, died in a plane crash on May 31. He had served on Temple's 36-member board of trustees since 1998 and was the university's largest donor. Last November, he pledged $25 million to the university, and in May, Temple named its medical school after him.
Drew Katz, CEO of Interstate Outdoor Advertising, will serve a four-year term on the board and at his request will become a member of the board's athletic committee, which his father had chaired.