Susan Snyder
For the second time in two weeks, alumni trustees on Pennsylvania State University's Board of Trustees are seeking court action against the board on which they sit.
This time, they are asking the court to require board leadership to release records reviewed by trustee selection groups in recommending new candidates to the board. The board this week is scheduled to act on those recommendations, including appointments for three new at-large trustee seats and two "business and industry" seats. With the new appointments, the board will expand to 38 members.
Trustees Anthony Lubrano, Alice Pope, Robert Jubelirer, Ted Brown, Bill Oldsey and Barbara Doran on Monday filed a petition for preliminary injunction in Centre County Court.
Susan Snyder
St. Joseph's University has suspended play for its women's varsity softball team for the rest of the season following an internal investigation into hazing allegations.
The team has three games remaining in the season. It's unclear whether the team would have made post-season play.
"Due to violations of campus community standards, the women's softball team will not be participating in scheduled contests for the remainder of the season," the university said in a statement Friday.
Susan Snyder
An English professor who has been on the faculty at Haverford College for more than 30 years and most recently served as provost was named to a two-year term as president, the college announced Friday.
Kimberly Benston, 62, will replace Daniel H. Weiss, who will depart the college this summer to serve as president of the Metropolitan Museum of Art in New York.
Benston, a native of New York City and Yale grad, starts July 1.
Jonathan Lai
With final exams looming, Rutgers University said Thursday evening it was working with federal and state law enforcement to investigate ongoing attacks on its online systems.
The distributed denial-of-service attacks began around 10 a.m. Monday, the second such attack on Rutgers' systems in less than a month. The attack in late March also lasted several days and shut down access to the university's wireless Internet, e-mail, websites, and online course-management system.
"[Rutgers] continues to experience degraded online services," a university message said. "The DDoS attacks are ongoing and persistent."
Susan Snyder
The Community of Philadelphia and Children's Hospital of Philadelphia were among those honored on Thursday for programs designed to boost college enrollment and graduation in the Philadelphia region.
The "Regional Challenge" awards, handed out by Talent Greater Philly, were announced during a Greater Philadelphia Chamber of Commerce event at the DoubleTree Suites Philadelphia West in Plymouth Meeting.
"We all know that college education is a critical issue for our region's competitiveness. The Regional Challenge Honorees are models for other businesses and institutions in our region who are also motivated to invest in an educated workforce," Deborah Diamond, president of Campus Philly, who is on Talent Greater Philly's steering committee.
Susan Snyder
Ursinus College on Thursday named the dean of economics and finance at Claremont McKenna College in California its next president.
S. Brock Blomberg, 48, a political economist who specializes in the economics of terrorism, replaces Lucien "Terry" Winegar who had been serving as interim president since the sudden death of Bobby Fong last September.
He takes over July 1 as the 17th president of Ursinus, a 1,600-student liberal arts college in Collegeville.
Jonathan Lai
Stockton University faculty and staff have voted to condemn the university's president and demand faculty representation on the Board of Trustees.
Last week's vote was released Monday, five days after president Herman J. Saatkamp Jr. announced he would step down amid controversy over the university's proposed Atlantic City campus.
"Members of the Faculty Assembly and the Stockton Federation of Teachers, AFT Local 2275, therefore immediately demand two seats on the Stockton University Board of Trustees, and overwhelmingly affirm a lack of confidence in the ability of President Herman Saatkamp to lead Stockton University going forward," faculty and union leaders said in a news release.
Susan Snyder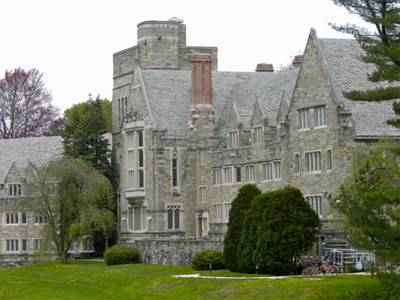 Bryn Mawr College on Thursday announced a $15 million gift from the late Isabel Hamilton Benham, a 1931 alum who went on to become the first woman on Wall Street to study the railroad industry.
"Isabel Benham defied convention and broke barriers throughout her life, and, through her accomplishments and her philanthropy, she continues to be an inspiration to successive generations of students here at Bryn Mawr," Bryn Mawr College President Kim Cassidy said in announcing the gift. "Her transformational gift will support the college's top priorities by providing permanent endowment funding for women in science as well as our faculty in international studies."
An economics major at Bryn Mawr, she was advised to enroll in a "secretarial course" after graduation rather than pursue her dream of working on Wall Street, the college said. She defied that advice and during her six-decade career went on to become "the first female Vice President and voting stockholder at Shearson Hammill (later Salomon Smith Barney), one of the first women to be named partner in a Wall Street bond house, the first woman to be on the Board of Directors of a railroad, and one of the first women to hold a seat on the New York Stock Exchange," the college said.