Jonathan Lai
The College of New Jersey is about to give a big boost to its science and tech facilities.
New buildings for the Ewing school's science programs — anchored by an 89,000-square-foot STEM center — will increase TCNJ's science-related space by nearly 60 percent when construction is complete in August 2017.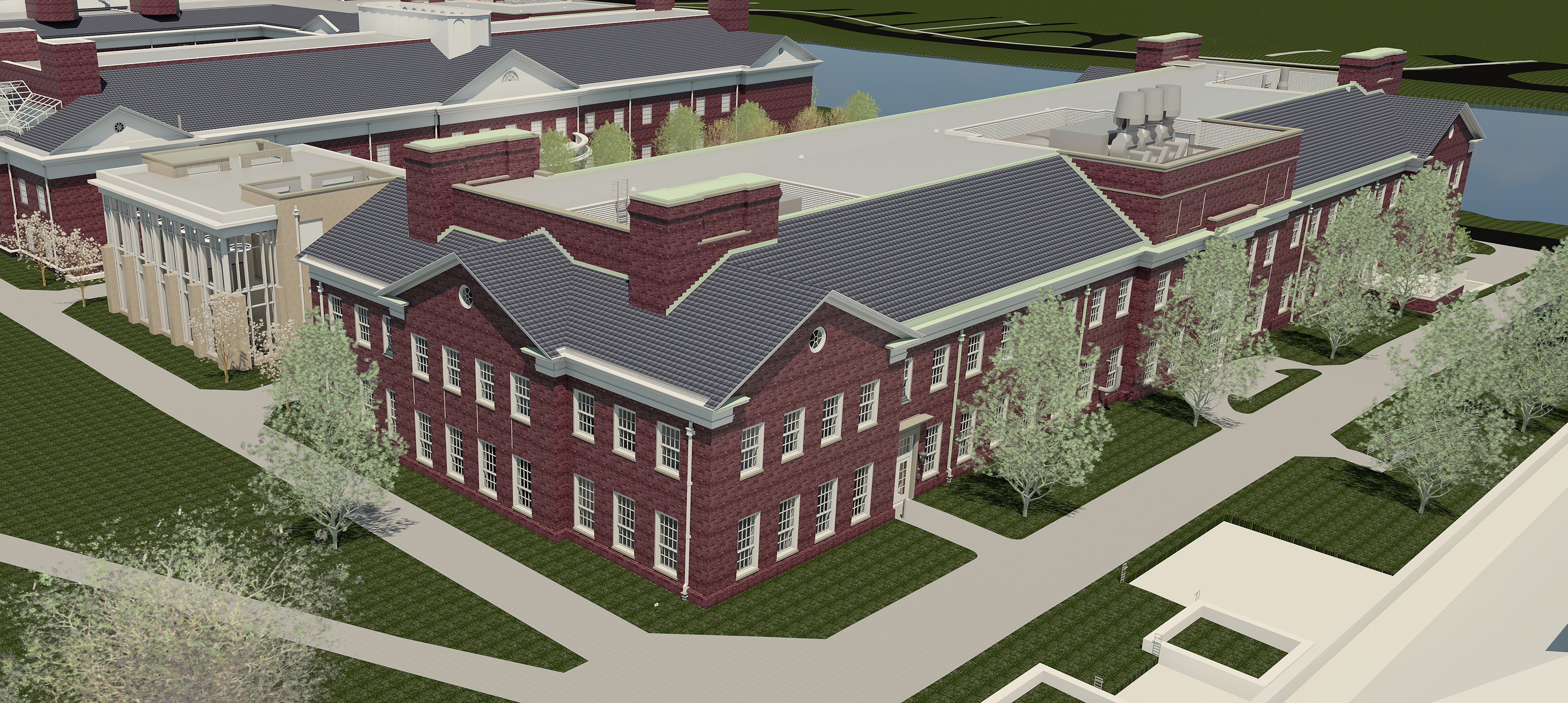 A rendering of the STEM Building from the southeast. The Forum (tan-colored building) connects the STEM Building to the Biology Building, pictured in the background to the top left. (EYP Architecture & Engineering / TCNJ)
Altogether, the project will cost more than $75 million, the school said, with $40 million coming from the "Building Our Future Bond" approved by voters in 2012 for capital projects at colleges in the state. The state's Higher Education Technology Infrastructure Fund will provide $1.075 million in funding.
Susan Snyder
The head varsity softball coach at St. Joseph's University will remain on the job following a report by a university-hired investigator that found no staff members violated policy in regard to hazing and sexual misconduct allegations by two former team members who have since sued the school.
The investigation by a law firm that the university declined to name found that head Coach Terri Adams and other coaching staff members had no knowledge of and did not participate in hazing or sexual misconduct, according to a university source. The investigation also uncovered no "forced behavior" in that there was no retribution for failing to comply, the source said.
Adams declined comment.
Susan Snyder
Drexel University has laid off "several dozen" administrative employees as a result of a new admissions policy that brought in fewer freshmen for the fall.
University officials declined to specify the number of layoffs or how many vacant positions were eliminated, but said the move - along with other cost-cutting - will save $18 million. No faculty members were cut.
The employees were to be dismissed by Wednesday.
Susan Snyder
Work at Widener University?
If so, chances are you're probably pretty happy about that.
The university based in Chester has been recognized as one of the most psychologically healthy places to work in Pennsylvania. The Pennsylvania Psychological Association presented Widener with the award at its annual convention in Harrisburg earlier this month.
The association considers employee involvement, work-life balance, employee growth and development, employee recognition and health and safety.
The university in a press release about the recognition cited its "wellness days" during which faculty, staff and students work collectively on stress management, well-being and work-life/home-life balance. Faculty and staff, the university said, have free access to the school's gym and recreational activities. Many employees also work flexible schedules and are offered "personal development activities" including the option of taking classes and earning a college degree tuition free, the university said.
"This award is particularly gratifying because Widener strives to be an employer of first choice," James T. Harris III, president of the 6,000-student university, said in a statement. "We not only provide opportunities for employees to improve themselves physically, mentally and emotionally, we also empower them to provide members of the communities we serve with similar opportunities through community service and civic engagement."
Susan Snyder
The same organization that pledged $1 million to put 50 students from low income families through Rowan University earlier this month has made a similar pledge in Delaware, only bigger.
Robert O. Carr, cofounder of a Princeton-based credit-card processing company, has donated $3 million to put 150 low income Delaware residents through the University of Delaware, officials announced Monday.
The money comes through the Give Something Back Foundation, which Carr started in his native Illinois in 2001 and expanded this spring to the East Coast, with an office in Princeton.
Susan Snyder
Another college at Pennsylvania State University has been affected by a cyberattack, university officials announced late Friday afternoon.
Several systems in Penn State's College of Liberal Arts has been the target of two cyberattacks, but it doesn't appear any "personally identifiable information or research data" was compromised, the university said in a press release.
However, some usernames and passwords were compromised and will have to be changed, the university said.
The university does not know who committed the attacks, officials said.
Susan Snyder
Three 30-something chaplains, who work together at the University of Pennsylvania to nurture students' varied spiritual needs, will team up later this month for a more physical assignment: Completing Philadelphia's TriRock Triathlon as a relay team.
The Rev. Charles L. Howard, university chaplain, will do the swimming - that's 1500 meters of stroking in the Schuylkill River. Rabbi Josh Bolton will bike 24 miles. And Muslim chaplain Kameelah Rashad will run six miles.
Perhaps Rashad has the most significant challenge. She will attempt to complete her leg while fasting for Ramadan. No food or water is allowed from sun up to sundown during the Muslim observance that begins this week and continues for a month.
Susan Snyder
An alumna left part of her estate, worth more than $441,000, to West Chester University to support music scholarships, the school announced Thursday.
Thelma (Creveling) Folkner, a 1934 graduate of West Chester's College of Education, left her entire estate to West Chester and Centenary College, her daughter's alma mater, the West Chester University Foundation said in a press release Thursday.
As a student, Folkner was active in the university's Symphony Orchestra and Music Club. Folkner had lived with her daughter, who died earlier of congestive heard failure, on three acres of farmland in northern New Jersey.