Jonathan Lai
Rowan University will split its commencement this year into six ceremonies held over four days, ending its tradition of a unified, universitywide commencement ceremony, the school announced Wednesday.
This is the first time in the school's history that it won't have the universitywide ceremony, a spokesman said, citing a lack of indoor venues for ever-growing enrollment.
The ceremonies will all be held on the University Green where past commencements were held. Rain locations would include Esby gym, Pfleeger Concert Hall, and Wilson Hall.
Jonathan Lai
Rowan University raised a total of $28.8 million last year for sponsored research, programs, and projects, school administrators told its board of trustees this week.
In an annual report, Rowan touted the 2013-14 number, an increase of 9.73 percent over the year before.
That number includes the School of Osteopathic Medicine, which Rowan absorbed from the now-defunct University of Medicine and Dentistry of New Jersey. That school's research accounted for more than $11 million last year. Of the university's homegrown units, including the Cooper Medical School of Rowan University and its main Glassboro campus, external funding increased 41 percent, to $17.8 million, from $12.6 million.
Jonathan Lai
Continuing toward its goal of opening a multidisciplinary "health sciences" building for colleges in Camden, a joint Rowan University/Rutgers-Camden board authorized Tuesday a search for property appraisal and architectural firms.
Kris Kolluri, the CEO of the Rowan University/Rutgers-Camden Board of Governors, said he expects to hire the firms within 60 days. The property appraisal firm will evaluate potential building sites in downtown Camden, including one Kolluri is eyeing near the Walter Rand Transportation Center.
"The goal is the board will want to advance a plan that will house a joint program in a space that … fits within a larger university district vision that the city has," he said in an interview.
Susan Snyder
Drexel University is renovating one of its lab buildings at 31st and Market streets with the goal of creating new space for freshman labs and an "innovation studio for designing and making new products."
But a byproduct of that effort has left homeless a student engineering club that builds a race car for competition each year, and its members are none too happy.
Hunter Hall, president of Drexel Formula SAE (Society of Automotive Engineers), wrote an op-ed in the student newspaper, criticizing the administration for putting into "storage" his club and several others.
Jonathan Lai
The Rutgers-Camden Board of Directors, a supervisory body overseeing Rutgers University's southernmost campus, inducted a new member Tuesday and elected two others to officer positions.
Lora L. Fong, a trustee who is also on the university's main governing body, the Rutgers University Board of Governors, was sworn in to the board at a meeting Tuesday morning. She replaces Gerald C. Harvey, a trustee and board of governors member who was the inaugural chair of the Rutgers-Camden Board of Directors. Fong is the first new appointment to the campus board since its first meeting in April.
A class of 1991 alumna of the law school at Rutgers-Newark, Fong is a partner at Brown Moskowitz & Kallen, P.C. in Union County. Her term on the board of directors, which runs concurrent to her term on the board of governors, lasts through 2019.
Susan Snyder
Each spring, an aspiring writer studying at the University of Pennsylvania will get a chance to fly to the West Coast for a week and work on the craft at the expense of and under the tutelage of novelist Buzz Bissinger, university officials announced.
The writers residency, offered during spring break was established by Bissinger, a Penn alum and author of Friday Night Lights and A Prayer for the City, and his wife, Lisa Smith, also a writer.
The student will stay at Bissinger's and Smith's guest cottage on the Long Beach Peninsula in the southwest corner of Washington state. Both Bissinger and Smith will be available for discussions about the writing process. The residency includes domestic round-trip airfare, ground transportation, lodging and a stipend for meals.
Jonathan Lai
For its fourth straight year, the Richard Stockton College of New Jersey has a record-breaking freshman class size.
Stockton had 1,191 first-time freshmen enrolled as of Wednesday, the first day of classes, an 11.4 percent increase from last year's 1,069 freshmen. In the four years of increases, freshmen enrollment has risen 38.3 percent from the 861 students in fall 2010.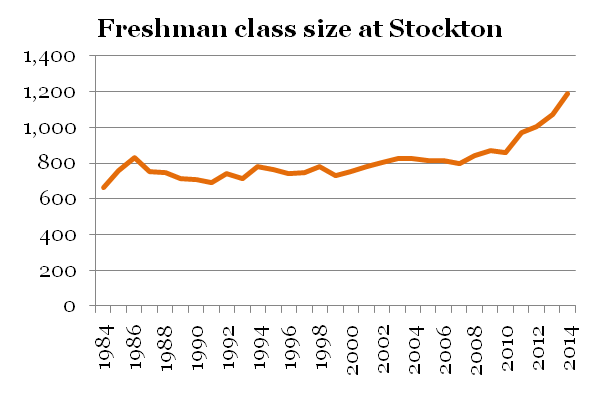 Jonathan Lai
Gov. Christie signed a nonbinding agreement with Mexican officials on Thursday encouraging collaboration between New Jersey and Mexican colleges and universities.
The agreement calls for the governments of Mexico and New Jersey to encourage schools to participate in possible activities including organizing academic conferences, developing online programs, and creating fellowship opportunities.
The four-year agreement, which will be automatically renewed indefinitely for four-year terms, creates no obligations for either Mexico or New Jersey.