Archive: March, 2012
Camden Mayor Dana L. Redd will host her second annual Women of Purpose celebration Saturday, the last day of Women's History Month.
The event will honor a dozen women who have made positive contributions to Camden. Having attended the event last year at City Hall, I expect the event will inspire many women and especially young girls.
Those honored range from neighborhood activists to local politicians to a radiologist.
Tuesday evening's hearing on Camden's $167 million fiscal 2012 budget drew only five residents. After just 30 minutes, City Council unanimously passed the budget.
The amended budget is about $9 million higher than the initial proposal, introduced in August, but lower than last year's $173 million budget. It also includes a 4 percent increase in the municipal property levy to $23.5 million.
Departments that saw some of the highest increases since the initial budget introduction include the Office of Parks and Open Space and the Health and Human Services Director's Office, both of which had their budgets increased by $400,000.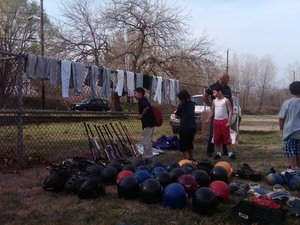 Just in time for the start of Little League season, Camden County politicians and employees on Friday delivered new and used baseball equipment for more than 100 children in the North Camden Little League.
The county held a collection that yielded dozens of bats, helmets, gloves, spikes, pants and balls. Enough money was donated to cover the $20 registration fee for about 180 children to play this summer.
County officials also recently spent $10,000 to renovate three baseball fields at Pyne Poynt Park in North Camden, said county spokesman Dan Keashen.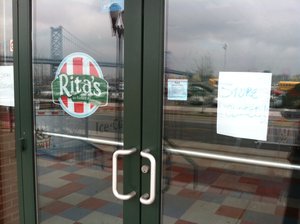 The first day of spring last week felt more like the first day of summer.
Noticing I was a few minutes early for a budget hearing at City Hall, I kept driving (windows down, soaking in the rays) to the Victor building on Market Street to get some Rita's water ice.
Like a little kid, I darted out of my car, hopped across the street, only to find a "store closed" sign.

As many of you probably know, most Rita's stores in the region offer free water ice on the first day of spring to celebrate the start of water ice season. I found it odd that with the gorgeous weather last week, Rita's at the Victor was closed.
After stating "I will not be answering any questions" – a warning that elicited much mumbling in her audience -- Camden County School Superintendent Peggy Nicolosi stood in front of more than 300 people on Thursday night ready to listen to their concerns about the Camden City School District.
Residents' comments at the education forum, hosted by the state Department of Education and Camden Mayor Dana L. Redd, were to be taken into consideration as state officials prepare a final Quality Single Accountability Continuum (QSAC) report, state Department of Education spokesman Justin Barra said prior to the event. The report-- which assesses instruction, operations, personnel, governance and fiscal management-- allows the state to intervene in problem areas or mount a full takeover if a district scores less than 50 percent in all categories. Camden scored less than 50 percent in all but the fiscal management category. (For background on initial QSAC findings, read HERE)
But not a single parent brought up the city's poor showing in the first report. In fact, hardly any parents spoke.
Ador Tolbert, a junior at Camden's Creative Arts Morgan Village Academy, spent the last month cutting, stitching, and sewing navy-blue and leopard-printed fabric in her fashion design class.

On Friday, she proudly modeled her final product — a navy knee-length skirt and a matching blazer with leopard lining — on the runway at the New Jersey Family, Career and Community Leaders of America annual conference at the Cherry Hill Crowne Plaza.

Her fashion creation is a reflection of her personality, Ador said.
"I'm plain on the outside, but bold on the inside," the soft-spoken teenager said confidently.
With the temperatures heating up this week, summer is on many people's minds, including Camden City Mayor Dana L. Redd.
Redd announced Wednesday that the city's Summer Recreation/Food Service Program is accepting applications for a number of adult and youth summer jobs.
Temporary summer employment in the city pays between $7.25 to $15 an hour, depending on the position. Jobs available for adults and youth include summer program monitor; recreation site supervisor and aide; pool coordinator and lifeguards.
Parents of Camden's 3,000 preschool aged kids (3- and 4-year-olds) will be able to register their children for preschool on Wednesday.
Camden school district officials are hoping to get at least 90 percent of the 3- and 4-year-old population to meet the state's goal, between 2,600 and 3,000.
There is currently enough classroom space for 2,500 preschoolers, half of which will be open slots for the fall.