Archive: September, 2011
Irene, Lee and all that miserable rain has made late season corn-on-the corn scare in local markets. Farmers say the flooding was the worst since a 2004 storm dumped 13 inches on Burlco and burst 19 dams in Medford, Tabernacle and neighboring towns.
Lester and Pat Eckert, owners of a 40-acre cornfield in Tabernacle, said they normally sell fresh corn up until Oct. 10. Not this year. They sold their last home-grown ear a few weeks ago.
The hurricane blew down some of their crop and several acres had to be abandoned due to saturated fields.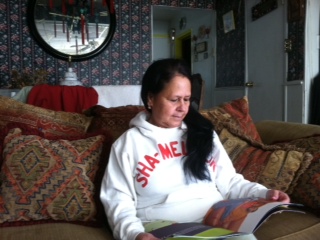 The hold-outs who live in the rowhomes in Mount Holly Gardens don't want to move, despite the demolition all around them. The town wants to knock down the whole neighborhood and has threatened eminent domain. Check out the photographs that show how the town is slicing off adjoining units, leaving residents with lonely narrow dwellings full of cracks.
Most of the residents are minorities living below poverty levels. They can't afford to move. They've lived there for decades and have paid off their mortgages - or soon will. Nancy Lopez, one of the residents, says she loves her house and doesn't understand why she can't stay.
Town officials say they want to remove blight and crime. They want to redevelop.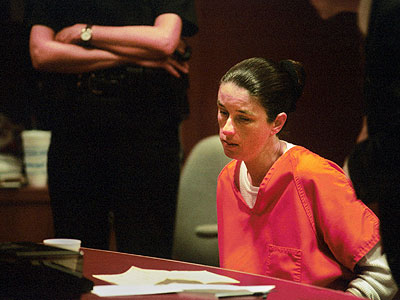 A Burlco judge wants to see a decade-old manslaughter case resolved after the NJ Supreme Court found fault with an emotional sentencing hearing. Judge Jeanne T. Covert gave the prosecutor and defense until Nov. 14 to report back on the best way to proceed in the case against Marie Hess. The former bridge toll-taker is charged with killing her husband while he slept.
The high court said Hess was denied her rights because her lawyer didn't tell the judge that she had feared for her own life and had said her husband had beat her. The lawyer said he had to keep quiet as a condition of Hess' plea bargain. Meanwhile, the victim's family was allowed to show an emotional video portraying him as a respected police officer, a good friend and a fisherman who owned a puppy. His funeral was also featured in the clip.
She got 30 years.
Moorestown Mall, which wants to serve alcohol at restaurants it plans to open in its dying shopping center, may need a drink now that it has a big legal hassle.
William E. Cox, a Moorestonian and Center City lawyer, is suing the town to block a ballot question that would allow the dry community to become wet.
The suit has something to do with the "trains, airplanes and boats" language in the question, and the fact that a similar question (minus the mention of choo choos and all that) was posed to voters only 4 years ago. State law says you must wait 5 years, apparently because the issue frays everyone's nerves.
The jury in a high-profile murder/carjacking trial that started in Burlco this week was shown chilling evidence of the crime. There were guns, the accused killer's videotaped statement to police, and a "Stop Snitching" note he allegedly wrote to his girlfriend.
Ray Milavsky, the prosecutor, played a video clip in which police asked Lenroy Laurance if he saw the blindfolded victim being led from her car to be shot on a secluded dirt road. After a tense 39 seconds and uneasy fidgeting, he finally mumbled "I was there."
The prosecutor also displayed handguns and EZ-Pass records that showed the erratic path that Laurance and his three co-defendants took after they took over the woman's car. For five hours she was left lying on the floor of the backseat while they zigzagged up and down the New Jersey Turnpike.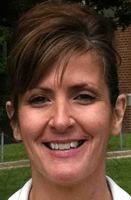 Medford's former police chief, who also was the town manager, dropped charges this week against a councilwoman he had accused of poking his chest.
Stephen Addezio could not be reached for comment after he dismissed simple assault charges against former Councilwoman Victoria Fay in Burlington Township's municipal court. The case was heard there to avoid a conflict of interest in Medford.
"I'm very very excited since I can close that chapter of the book in my life," Fay said today. "There are more important things to worry about right now than this. The town has has a lot of more important problems."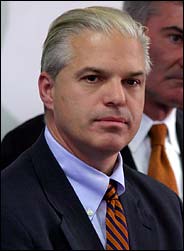 A federal judge who stirred up controversy when Bush appointed him five years ago was reversed TWICE last week in high-profile cases affecting Burlco.
Earlier this month, U.S. District Court Judge Noel Hillman decided to boot Olympic champion Carl Lewis off the ballot, saying he has not lived in New Jersey long enough to run for a New Jersey Senate seat.
That was a mistake, a Third Circuit appeals panel in Philly decided. Lewis, a Democrat, grew up in Willingboro, spent much of his adult life in California, but then bought a house in Medford 4 years ago. He wants to represent the Eighth District, which includes Burlington County.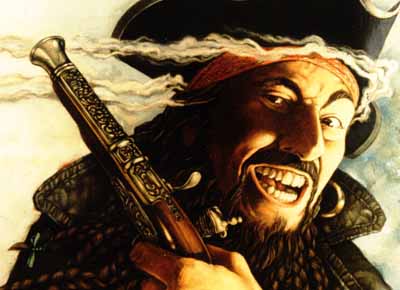 It's not a Hallmark holiday, but make no mistake, today is International "Talk Like A Pirate Day."
People are dying their beards black, plastering patches over their eyes and saying stuff like 'Ahoy Ye Hearty' in a throaty voice.
You haven't noticed? Wellll, shiver me timbers! Arrrrrrrrrr. The world needs this.