Archive: August, 2012
Jan Hefler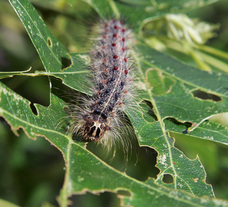 Gypsy Moth destruction this year is at an all-time low - the lowest in more than 40 years. But in a couple of Burlco towns, the pest's insatiable appetites damaged acres of trees.
The NJ Dept. of Agriculture says aerial surveys of forests and wooded areas of the state revealed Pemberton Township had heavy deforestation on 36 acres. More than half of the trees were stripped bare in that northern Burlington County town. Woodland Township, tucked away in the Pinelands, lost 8 acres.
Worse hit were Wall Township in Monmouth County and Mullica Township in Atlantic County. Each suffered damage on 63 acres of woods.
Jan Hefler
The mother of a 2-year-old child who recently was bitten by a monkey was really the person at fault, the owner of a troubled Burlington County zoo insisted in a recent interview.
"The parent didn't watch the child," huffed Burton Sipp when he was asked about the May 17 incident at his Animal Kingdom Zoo in Springfield Township. "I had to spend thousands to put wire up" around the zoo's fences.
Never mind that the wooden fence surrounding a cage full of spider monkeys had wide openings between the slats and that inspectors had warned him many times in the past that the public needs to be better protected from potentially dangerous animals. The child easily slipped underneath the fence and was grabbed and bitten on the hand by a monkey who wanted the popcorn that she clutched in her hand.