Archive: October, 2012
Jan Hefler
It's easy to understand why Montclair will soon have the distinction of becoming the home of New Jersey's first medical marijuana dispensary.
As Geoff Mulvihill writes in an Associated Press story, Montclair is often called the Upper West Side of New Jersey, referring to the "upscale and liberal part of Manhattan" and also resembles "well-heeled bohemian spots such as Boulder, Colorado and Berkeley, California.
Montclair, in Essex County, also hosts an art museum, an international film festival, a gay rights headquarters, an abortion clinic, a Whole Foods, bike racks for commuters, and so on, says Mulvihill. Why not a marijuana dispensary?
Jan Hefler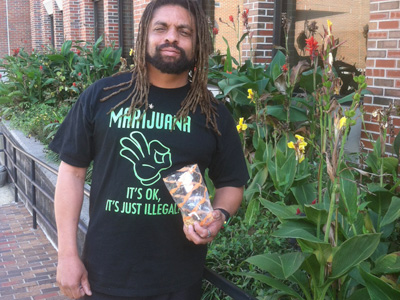 Ed Forchion, aka "NJ Weedman," says his acquittal this week on drug distribution charges is a victory for medical marijuana users and for the push to legalize marijuana.
Surprisingly, he convinced a Burlco jury that the pound of marijuana a trooper found in his car during a 2010 traffic stop was strictly for his own use.
Forchion insisted he uses the drug to alleviate bone cancer and said he had no plans to sell or share it with others.
Jan Hefler
Ed Forchion, aka NJ Weedman for advocating the legalization of marijuana, began his re-trial on drug charges this week in a Burlington County courtroom. A verdict could come in the next few days.
Forchion readily admits he had a pound of pot in the trunk of his car when he was stopped by police two years ago. But he insists he uses it for treatment of bone cancer. The Rastafarian possesses a medical marijuana card in California and runs a dispensary out of Los Angeles. He was visiting family in New Jersey when he was pulled over.
The prosecutor says Forchion had the drug because he wanted to sell it and make a quick profit. Why else would Forchion have it wrapped up tightly in the trunk and also have $2,000 cash in his wallet?
Jan Hefler
A medical marijuana dispensary that was expected to open for business in a warehouse near Atlantic City a month ago won't see any action this year. After facing enormous hurdles, the owners now are looking at a grand opening next March.
On Monday, the New Jersey Health Department granted final approval to the state's first marijuana dispensary - the Greenleaf Compassion Center in Montclair, in North Jersey. It likely will open before the end of the year.
Compassionate Care Foundation has not been as lucky. Last year, two Burlington County towns refused to approve its plans for a dispensary after angry residents stormed local meetings, saying they feared the sale of the drug would increase crime in their neighborhoods. The drug is restricted to the very ill and the state requires stringent security measures but the people were not convinced.
Jan Hefler
Nearly one year after a fire killed a mother and baby giraffe at a small Burlington County zoo, five of the seven giraffes that survived are back. While their barn at Animal Kingdom was rebuilt, they were temporarily housed at Six Flags Great Adventure Safari in Jackson Township.
Animal Kingdom, in Springfield, has had a troubled history. Over the past dozen years, it was cited for more than 200 violations by the U.S. Department of Agriculture. The Oct. 30 fire erupted four days after the USDA had warned the zoo owner that his license would be revoked if he did not correct the animal neglect and squalor.
When the fire broke out, Great Adventure agreed to take care of five of the giraffes that had fled the flames. "Considering eveything the animals have been through, they are very resilient," said Kristin Siebeneicher, Great Adventure spokesperson. "They had enjoyed being part of our close encounters tour, a bus tour where people feed them carrots and sweet potatoes."