Archive: October, 2011
The offer went out with a bit of intrigue - you could get a free wedding if you wanted to tie the knot in a place known for hangings and hauntings.
But no one raised a bony hand. Marrying in the historic Mount Holly Jail may simply be too creepy.
It was the second year in a row that Burlington County Clerk Tim Tyler announced he would officiate weddings in the jail, which holds haunted tours during the Halloween season. Built in 1811, the jail was the site of several hangings. Read about it here: http://www.prisonmuseum.net/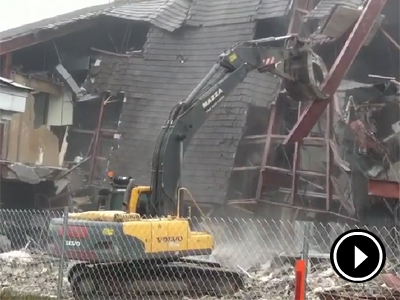 Moorestown's Town Hall, an ugly concrete bunker, is finally being dismantled. Years after a fire destroyed the inside, a demolition crew this week began knocking down the stained block walls that for many years housed the municipal offices, court and police department.
Deafening heavy machinery pounded the red steel beams and left behind a twisted pile of smoking debris. Spectators came to gawk. The demolition is expected to continue several more days.
Four years ago, a fire broke out in a storage area of the second floor of the building, which was built in the '70s. The interior was severely damaged. Left standing was the seemingly indestructible hulking shell. After that, municipal offices were relocated in scattered rented spaces in industrial parks. Read about the town's long bitter debate over a replacement building here: http://bit.ly/rbAcPI
A famous chef plans to open a restaurant in Moorestown - but only if the townsfolk vote Yes to allow liquor to be sold in this historically dry town.
PREIT, the owner of the Moorestown, Cherry Hill, and other area malls, announced it has a letter of intent from Marc Vetri, the chef and owner of the posh Vetri and Amis restaurants in Philadelphia.
"The ability to bring this type of establishment to Moorestown Mall isn't just a home run; it's a grand slam at the bottom of the ninth to win the World Series," Joe Coradino, PREIT president, said in a press release.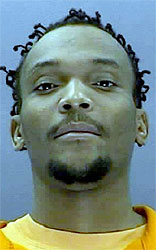 A Burlco jury found a Philly man guilty Friday of participating in the Sept. 2, 2009 carjacking of a Russian immigrant in Frankford and her murder five hours later in a secluded Mansfield Township field.
Lenroy Laurance, 29, faces life imprisonment after he was convicted of carjacking, kidnapping, murder and weapons offenses after a three-week trial in Mount Holly. The jury deliberated 7 hours over two days.
Laurance was the first of four Philly men to be tried for abducting Lyudmila Burshteyn, a 57-year-old naturalized U.S. citizen, while she sat in her new Nissan Murano waiting for a housing inspection on a property she managed. Police said the men pistol-whipped her, blindfolded her, and drove her around while they smoked marijuana and searched for guns that they had hidden off a New Jersey Turnpike ramp.
The U.S. Supreme Court will issue new rules on whether people arrested for non-violent crimes can be strip-searched. That could mean next month, or next June, at the latest. The justices decide when, as well as what.
At a one-hour hearing Wednesday morning, the justices grilled the lawyers in the controversial Albert W. Florence v. Board of Chosen Freeholders of the County of Burlington case. It involves a Burlco man who was arrested during a motor vehicle stop 6 years ago after the trooper discovered he had an outstanding warrant for a contempt of court charge in Essex County. The problem was Florence had already paid the fine two years earlier.
It didn't matter - the computer said he didn't.
The U.S. Supreme Court will hear arguments today about whether a person arrested for a nonviolent crime or a traffic violation can be legally strip-searched when brought into a local jail. In recent years, Philadelphia, Camden County, Gloucester County and other jurisdictions have paid millions to settle class action lawsuits filed by inmates who say their Constitutional rights were violated when they were strip-searched.
The current case involves a strip search conducted at the Burlco Jail 6 years ago. Albert Florence, a Bordentown man who is a car dealership manager, says he was subjected to a "disgusting" visual inspection after being arrested during a routine car stop. A state trooper stopped his wife for speeding on I-295 South and when he did a motor vehicle check, discovered Albert Florence had an outstanding warrant for eluding police.
It was a clerical error - Florence had paid the fine two years earlier - and he carried paperwork with him to prove it in case he was stopped. As an African American, he said he has been stopped several times in the past because he was racially profiled.
A Burlco man who was strip-searched twice in error will attend a Supreme Court hearing this week to get justice. Albert Florence, a father of four who lives in Bordentown, says it will be "surreal" to hear his name spoken in "the highest court in the land."
It's been 3 decades since the high court has taken up the issue.
Florence, 35, was arrested 6 years ago by NJ state trooper when he was a passenger in an SUV driven by his pregnant wife. The trooper said she was speeding, but never gave her a ticket. Instead, he handcuffed Florence and took him to the Burlco Jail, saying he was wanted on a warrant for a traffic ticket.
The Story Behind Florence v. Burlington from National Constitution Center on Vimeo.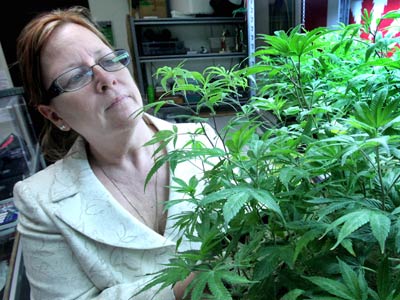 A medical marijuana store is planned for a Maple Shade location far from churches, schools, and homes so as not to upset any residents. "We tried to be sensitive to the community," said Andrei Bogolobov, spokesman for Compassionate Sciences Inc., a Sea Cliff, N.Y. non-profit.
The marijuana dispensary will be one of the first to open in New Jersey after a special law had to be passed to allow weed to be used by cancer sufferers and other patients to alleviate pain. The idea initially sparked fears that it could lead to the legalization of the drug, but state officials say the marijuana will be closely regulated and restricted to those with a doctor's prescription.
Compassionate Sciences must go before the town's zoning board on Wednesday, at 7:30 p.m., to discuss its plans to open in the former Office Furniture Outlet at 2860 Route 73 North. Mike Nelson, who currently operates a marijuana dispensary in Montana, will tell the board about the operations that he will help the non-profit set up.