Archive: January, 2013
Jan Hefler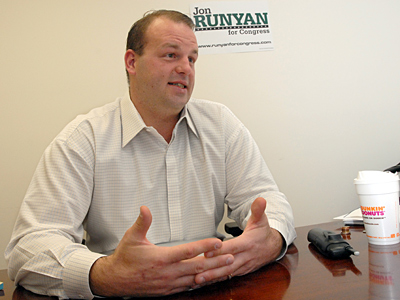 As the Senate Judiciary Committee was debating gun control measures and hearing emotional testimony from Gabrielle Giffords, Congressman Jon Runyan (R-NJ) was holding his own "gun summit" in Mount Holly, Burlington County.

Jan Hefler
NJ's comptroller is proposing heftier penalties after discovering a former Burlington County official who used his political influence to pocket $200,000 faces a maximum $500 fine for ethics violations.
Comptroller A. Matthew Boxer said his investigation revealed former Chesterfield mayor Lawrence Durr proposed changes in a farmland preservation program that he helped create and that brought him lucrative profits in a land deal. Boxer referred the matter to authorities for possible criminal prosecution and also proposed legislative reforms.
State Sen. Thomas Kean is already on the case. He introduced a bill that would increase the fine to $10,000, the amount state officials and employees face for ethics violations. Municipal and school board officials currently are subjected to the lower fine.
Jan Hefler
A Burlington County zoo under federal investigation is being warned against selling or donating exotic animals to people without keeping records or checking to see if there are valid licenses to possess them.
Recent animal welfare inspection reports have cited the zoo in Springfield Township for a slew of animal neglect and facility maintenance issues. The reports also fault Animal Kingdom for donating four wolves to an unidentified woman in October without recording the transaction. By December, when inspectors returned, the records were still unavailable.
In a notorious animal welfare case 10 years ago, Joan Byron-Marasek, dubbed "The Tiger Lady," lost custody of 24 Bengal tigers she illegally kept on her Jackson Township, Ocean County preserve.
Jan Hefler
A new book about Nucky Johnson - whose life is loosely depicted in HBO's Boardwalk Empire - reveals how the political boss beat a $20,000 tax evasion fine, among other raps.
Not only did the Atlantic City political kingpin declare himself a pauper, but he also put all of his assets in his wife's name, Flossie.
The book, Nucky, The Real Story of the Atlantic City Boardwalk Boss, was written by Frank J. Ferry, a Ventnor lawyer who defended Johnson when the Justice Department tried to collect the overdue fine, 20 years after it lapsed. Ferry offers an insider's account of how Nucky outmaneuvered the agency.
Jan Hefler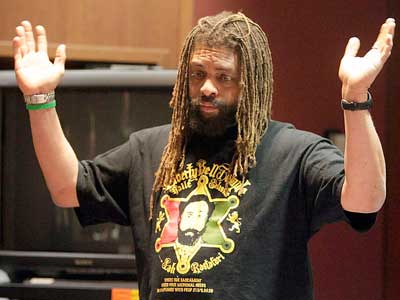 Ed Forchion, widely known as NJ Weedman, was sentenced to probation Wednesday for possessing a pound of pot. But first he got in a few defiant jabs at the prosecutor, the judge, and a legal system that he says criminalizes a plant.
At a hearing in Mt. Holly, Assistant Prosecutor Mike Luciano pushed for a 12-month prison term. "He's one of the most interesting characters I've come across," said Luciano, who earlier was mailed an unsolicited package of marijuana seeds by the longtime marijuana activist.
"But we can't give this defendant a walk," Luciano said, noting Forchion's criminal record and the need to send a message.
Jan Hefler
Now that medical marijuana is legal in the Garden State and a third of the other states, lawyers are busy figuring out what advice to offer. It's complicated since the federal government still views the drug as illegal.
For one, how should employers treat licensed marijuana users in the workplace without violating anti-discrimination laws?
Last year, the Supreme Court said employers have the right to fire workers for using marijuana. But labor lawyers suggest the bosses issue memos to clarify their zero-tolerance policies and to make sure they offer other types of accommodations to workers who have medical conditions that require marijuana treatment.
Jan Hefler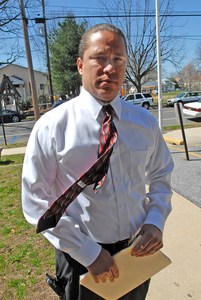 Beverly Councilman Luis Crespo had a terrible night Tuesday. After his house on Broad Street was gutted in a raging fire Monday evening, he finally was able to enter its shell to see what he could salvage. Little remained, but he found the body of the family's cat under his bed.
Crespo, who's had his share of controversy as councilman and council president during the past six years, said he also was stripped of his committee appointments Tuesday. "I was boarding up my house," he said, explaining why he couldn't make the reorganization meeting.
It wouldn't have mattered.
Jan Hefler
A scrappy Beverly Councilman who often found himself in the limelight in the city's rough and tumble politics came home from a shopping trip with his family Monday night to see his house in flames.
For two hours, the two-alarm fire raged, punctuated by loud popping sounds. Luis Crespo, who served six years on council, including five as president, said the house is now uninhabitable and that the family's cat is missing.
"I am grateful my family is okay and want to thank the hundreds of people that offered their support," Crespo said, as he and his friends began boarding up the duplex, a few blocks from the Beverly National Cemetery, Tuesday afternoon.