Jan Hefler
Lautenberg pioneered a smoking ban in planes in the '80s, and it ignited a movement.
Now smoking bans are on fire, spreading to sidewalks, beaches, and parks. Starting this month, smoking is banned at playgrounds, sporting and cultural events, gas stations and bus stops in all of Russia. The penalty? Up to 1500 rubles, says a Russian newspaper.
Burlington County's smokefree policy also began this month in its parks and on its hiking trails.

Jan Hefler
On Wednesday, NJ wildlife officials said they planned to let a black bear that was roaming about Burlington County alone. But early Thursday morning, he was laying in a net, face-down, after having been tranquilized with a dart gun. He was spotted in a backyard just a few hundred yards from a Delran nursery school.
Over the past week, witnesses reported seeing the bear swimming in Strawbridge Lake in Moorestown, eating seeds from bird feeders, and roaming through parts of Mount Laurel, Moorestown, Maple Shade, Westampton and Florence. They estimated he was 4-foot-tall and weighed about 400 pounds.
They weren't far off. Once captured and sedated, the bear was weighed and measured. He was 360 pounds - and 6-foot-tall. Even more surprising, he had a tag in his ear that showed he was the same bear that was roaming about Vineland a year ago. At that time, he was also captured and relocated.

Jan Hefler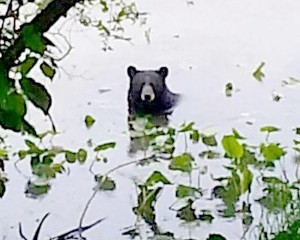 There have been at least a half-dozen sightings of a black bear in Burlington County in the past week, but wildlife authorities say they will just let him be. That is, as long as he doesn't become aggressive. So far, he has not shown any threatening behavior and people have said they enjoy seeing him roaming about their neighborhoods.
What would be the point of tranquilizing him and relocating him to a woods or an animal preservation area? "There's no fences around these places and the bear can start moving again," said Larry Hajna, spokesman for the New Jersey Department of Environmental Protection. (Check out the interactive map here)

"Generally… they're young males looking for new territory to mate with females," he said.
Jan Hefler
Five giraffes that had survived a tragic 2011 fire at the Animal Kingdom Zoo were relocated to Six Flags Great Adventure where they grew accustomed to interacting with visitors as part of a special Close Encounters Tour.
This spring, Six Flags is launching a new Off Road Adventure where visitors ride open-air Safari vehicles into areas where they can feed the giraffes and some of the other animals. But the Animal Kingdom giraffes won't be among them.

The gentle creatures were returned to the small rural zoo in Springfield Township, Burlington County last fall after their barn was rebuilt. The blaze had killed a mother giraffe and her baby, but seven of the herd had escaped. Two of the survivors later died of complications from the October fire.

Jan Hefler
About 25 tea party members protested in Moorestown at Christie's fundraiser for the Burlington County Republican Committee Monday night. They stood on the sidewalk in front of the affluent town's community house and waved signs as Christie's black SUV breezed by them and traveled up a long driveway.
A few hundred well-heeled invited guests arrived earlier by limo, car and foot to raise money for the GOP committee's slate of candidates for county and state legislative offices. Christie was the guest of honor.

"Tired of Political Games - Vote Republicans4Burlco - Conservative Values" said one of the placards that was bouncing about during the hour-long demonstration. Other signs promoted the Second Amendment and a rival slate of GOP candidates that the West Jersey Tea Party is endorsing for county sheriff, freeholder and state assembly.

Jan Hefler
Mount Holly Mayor Rich Dow says a proposal to ban outdoor smoking on township property is a bit, well, extreme.
The non-smoker says that an ordinance introduced by the town council this week prohibits smoking in playgrounds, parks and ballfields. Another part of the ordinance refers to a broad smoking ban on township property, including the creek that runs through the town, he said.
"So if you are in a canoe in the middle of the creek, a cop could summon you over and cite you?" Dow asked, increduously.

Jan Hefler
In March, a 20-year-old Delran woman became the 18th pedestrian to die on Route 130 in Burlington County since 2007. Christal Smith, 20, was hit by a motorist who ran a red light as she walked to her job at a nearby supermarket in the early morning hours.
Since then, 1,900 people have signed an online petition requesting the state erect a pedestrian overpass near the spot where she was hit.
"Twenty years earlier, a 13 year old girl was killed in the same exact place. This bridge could save lives. Please, let's make the deaths stop," the petition on Change.org says.
Jan Hefler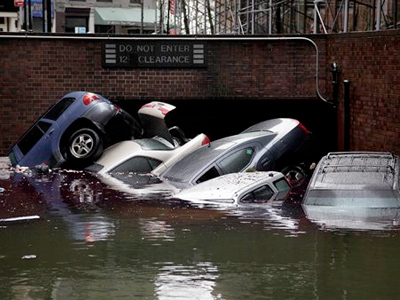 The NJ Consumer Affairs Division has warned used-car buyers to be wary of fraud because thousands of vehicles were damaged by the flooding caused by Hurricane Sandy.
But at least one buyer, who picked up a four-month-old Lexus - cheap - is happy.
The luxury vehicle that went underwater in Ventnor was advertised on Craig's List as a flood car, so Clarence Hamer was fully aware of the risks. After doing research, Hamer, a Brooklyn resident who tinkers with cars, said he was confident he could assess the damage and make an informed decision.