A hazardous Medford dam, with the potential to cause loss of life and significant property damage if it is breached, is finally on the road to being repaired, decades after it was cited as unsafe. There are at least 40 homes downstream, surrounding Taunton Lake, that could be affected.

In 1979, the state Department of Environmental Protection cited the Centennial Lake Dam as being unsafe and ordered repairs. The U.S. Corps of Army Engineers also found deficiencies. An earthen dam created Centennial Lake, located near an upscale wooded development, but its spillway is inadequate, DEP says. Centennial Lake, which has been lowered to reduce the flood risk, has been used for swimming and boating.
Year after year, the DEP demanded inspections, an "Emergency Action Plan" and repairs.

Medford Township is withholding an outstanding bill for $43,000 from a politically influential law firm accused of overbilling the town $50,000 in 2010.

A New Jersey Comptroller's report found the politically influential Parker McCay LLC in Mount Laurel had a $96,000 retainer to cover routine business and then charged additional hourly fees for matters that should have been part of the retainer.
Town officials believe the town is actually owed about $170,000 from a 10-year period when the law firm was the contracted solicitor. The firm has since been replaced. Officials are planning to take legal action to recoup the money. Meanwhile, they said an outstanding 2011-2012 bill for $43,000 will remain unpaid.
Undercover officers in Burlington County will be posing as pedestrians to crack down on motorists who fail to stop when someone is using a crosswalk.
The state Division of Highway Traffic Safety awarded the county sheriff a $30,000 grant for the special enforcement effort after highway pedestrian deaths in the county spiked last year.
Motorists who fail to yield to pedestrians face up to a $200 fine and could be ordered to perform community service. If they strike someone, they could face up to 25 days in county jail. Pedestrians who fail to use the crosswalk could be fined $25.

Without fanfare, the NJ Health Dept. reported last week that 1,000 patients are now registered to receive medical marijuana.
It's hardly a milestone.

Due to a shortage of dispensaries and several delays in the state program, only about 130 patients have actually been able to buy cannabis.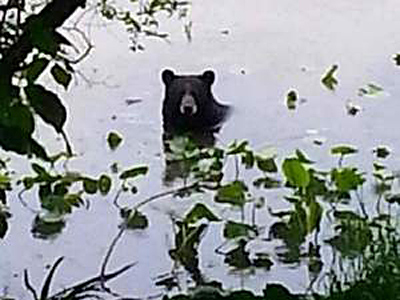 The 360-pound black bear who was captured in Delran last month to the cheers of 100 people had "escaped" from the woods once before, a year ago, in Vineland. Both times the free spirit had to be sedated, netted, and returned to the Pinelands, a vast wilderness with no fences.
I kinda hoped that the bear spotted in Bucks County on Thursday was him, out again.
But this time the bear with wanderlust was a baby bear, only about 18 months old, according to wildlife officials.
With all the rain, you knew this would happen.
The mosquitos have begun to feast.
But what you likely don't know is that they breed in the tiniest pools of water - even in a space as small as a discarded ice cube tray. They only needs 1/4 inch depth of water to multiply.

Judy Olsen, an author and genealogy researcher, used to call dead people whose records were missing "her people."
She refused to let them rest in obscurity. Once she was given a name, she would scour cemeteries, pore over yellowed records, and search the Web into the wee hours until she found a scintilla of information about that person's life. "Where are you?" she would mumble to herself.

In 2005, I interviewed Olsen in a weed-choked Pemberton cemetery. I watched in awe as she pointed out weathered headstones that seemed ready to topple but would not yield to time. Olsen would smile at the inscriptions and recount snippets of the lives of the people buried there long ago. Her tales were witty and also well-researched. You could feel her kinship with these folks.
Now that the final vote tallies are in, the summary report shows the contested GOP primary in Burlington County last week attracted more than twice as many voters as the norm. Still, the turnout was dismal. Voters where are you?

In the last three years, only nine percent of registered voters, on average, have bothered to go to the polls to vote in the June primaries. Really? In actual numbers, that's roughly 26,000 out of 270,000 registered voters, and a population of 450,000.

This year, it was no different, overall.