Archive: July, 2012
The Perkasie Borough police chief is starting his investigation of the fatal shooting of a handcuffed, mentally ill Quakertown man by one of his officers, now that the Bucks County District Attorney's Office has wrapped up its probe.
"I'll look at whether there were any violations of our general orders," Chief Joseph Gura said Tuesday, a day after District Attorney David Heckler announced that the June 9 shooting in Sellersville was justified.
"If there were [violations], I'll determine the discipline," Gura said. "If not, I'll decide where we go from there."
District Attorney David Heckler has scheduled a 3 p.m. press conference to discuss the investigation into a Perkasie police officer's fatal shooting of Michael Marino on June 9 in Sellersville.
The officer shot Marino in the chest while trying to arrest him, county officials said at the time.
The officer also was wounded in the incident, Heckler said.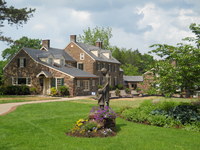 Pearl S. Buck International, the non-profit organization inspired by the Pulitzer and Nobel Prize winner, is offering free tours of the author's 1825 stone farm house in Hilltown, Upper Bucks County.
The one-hour Discover the Legacy tour includes the first floor of the house, with Buck's library and the desk where she wrote The Good Earth. The house features Pennsylvania country furniture alongside Chinese decorative screens, a silk wall hanging presented by the Dalai Lama of Tibet, Chen Chi paintings, and works by renowned artists Edward Willis Redfield and Walter Emerson Baum.
The tour also includes the Cultural Center, in a barn on the 68-acre Green Hills Farm, a National Historic Landmark.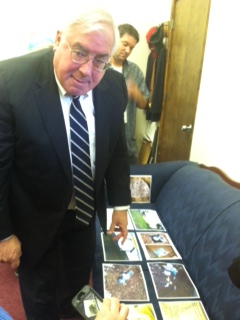 The fatal shooting of a handcuffed, mentally ill Quakertown man by a Perkasie Borough police officer last month was justified, Bucks County District Attorney David Heckler said Monday.
But police made several mistakes in trying to arrest Michael Marino, 26, the ranting, resistant suspect who was high on synthetic drugs during the June 9 confrontation in Sellersville, Heckler said.
"The police did not create situation – he did," Heckler said about Marino. "When confronted by police, as was inevitable given his conduct and had occurred before in his life, he chose to do battle even after he had been restrained, instead of submitting to lawful authority."
A month-old ban on sewer hookups and building permits in most of Lower Bucks County has been lifted temporarily, the state Department of Environmental Protection said Thursday.
The DEP lifted the ban affecting the 13 municipalities served by the Bucks County Water and Sewer Authority on Wednesday, based on new information about the capacity of a sewage pumping station, DEP spokeswoman Deborah Fries said in a written statement.
The sewer authority, meanwhile, filed an appeal of the DEP's June 26 ruling with the state Environmental Hearing Board on Thursday, authority spokesman Patrick Cleary said.
Major provisions of Pennsylvania's controversial law governing oil and natural-gas drilling were ruled unconstitutional Thursday, returning control to local officials.
Provisions of Act 13 that supersede local zoning and environmental laws were declared "unconstitutional, null and void" in the ruling written by Commonwealth Court President Judge Dan Pellegrini.
Seven municipalities, including Yardley Borough and Nockamixon Township in Bucks County, challenged the law that took effect in April. Two elected officials, a doctor, the Delaware Riverkeeper Network and that group's leader also were plaintiffs in the suit.
The Bucks County Commissioners received 37 recommendations Wednesday to educate the public about the state's controversial Voter ID law, ranging from distributing leaflets and training poll workers to Commissioner Vice Chairman Charley Martin making a rap video.
"I'll write the song, Charley can rap, and Rob can hum in the background," Commissioner Diane Ellis-Marseglia joked, referring to Commissioner Chairman Rob Loughery.
"I'm a country western singer," Martin responded.
If Bucks County seems more crowded than usual this weekend, it's because the 5th annual Patriot Games youth lacrosse tournament is in town.
The tournament will feature 190 teams from across the country and Canada, drawing about 10,000 visitors to the county. That translates to $1.5 million spent in hotels, restaurants, shops and attractions, the county tourism bureau says.
The games for players ages 11 through high school age will be Saturday and Sunday at New Hope-Solebury High School on West Bridge Street in New Hope; the Herbst Sports Complex in Plumstead Township; and Palisades School District fields in Kintnersville.