Archive: June, 2013
The Bucks County Sheriff's Office was recently named an Accredited Law Enforcement Agency by the Pennsylvania Chiefs of Police Association, joining several other county police departments that have been recognized for quality standards by the agency.
The accreditation program was developed in 2001, according to the association's website, to help "evaluate and improve" the overall performance of police departments. Departments are assessed by members of the association for various procedures, such as use-of-force training and evidence maintenance.
According to the association's website, six other Bucks County police departments have already earned accreditation: Warminster Township, Middletown Township, Upper Southampton Township, Dublin Borough, Falls Township, and Quakertown Borough.
A woman died late Tuesday morning in a two-vehicle accident on Route 413 and Summit Trace Road in Middletown Township, Bucks County, police said.
The accident occurred shortly before 11 a.m. on route 413 between the Newtown Bypass and St. Mary Medical Center. Evidently the woman lost control of her car and struck a pole and then a three-axle dump truck that was stopped at a red light, police said.
The investigation is ongoing.
One person was drunk. Another was street racing. And yet another was speeding nearly 100 mph. All of them caused a deadly wreck.
Three people pleaded guilty in Bucks County court on Monday to charges stemming from three separate fatal car crashes.
Ashley Sheridan, 28, admitted to driving nearly 100 mph on River Road near Route 1 in Falls before rear-ending another car. Mary McGrath, 66, of Morrisville, spent eight months in the hospital before succumbing to her injuries, Deputy District Attorney Antonette Stancu said.
In case you missed it on Sunday, we wrote about a relatively new and controversial DNA database that Bensalem police use to catch low-level criminals. (Use promo code L89U to breach the paywall).
Bucks County's largest department has been amassing its own collection of DNA profiles by simply asking crime suspects for a cheek swab. And most say yes, according to Public Safety Director Fred Harran.
The database and others like it across the country are designed to catch criminals who often fly under the radar of national and state DNA collections, which contain the genetic material of more hardened felons and sex offenders.
The Council Rock School District is beefing up security in the wake of last year's school shooting in Connecticut, doubling its numbers of security cameras, expanding card access systems, and adding security personnel.
The district's 10 elementary schools and three middle schools will receive most of the roughly $1 million in security improvements, Superintendent Mark Klein said. The school board approved the expenditure last week.
Council Rock's two high schools use the bulk of the district's 100 security cameras, as well as an employee card access system, Klein said. The district will install 150 more cameras in the elementary and middle schools. The cameras will not be placed inside classrooms; instead, they will monitor school entranceways and other areas, including outside the buildings, he said.
In case you missed it, we wrote about a bear who wandered into Warrington yesterday - almost to the intersection of Street Road and Route 611 - before police and the Pennsylvania Game Commission rescued him.
He came from New Jersey, having traveled at least 20 miles, assuming he moved in a straight line, which he most likely didn't.
His mother had probably cast him out on his own for the first time, reasoned Cheryl Trewella, a Game Commission spokeswoman. And when that happens, bears often travel in a loop in a search of a heavily wooded place to call home.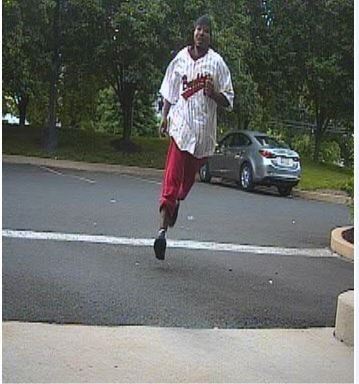 The man who plunged a knife into another man's adomen on Monday was chased down Tuesday evening by a Bensalem cop who recognized him from surveilance video, according to court documents filed this morning.
The alleged stabber is Michael C. Bell, 45, who was listed as having "no fixed abode" in court documents. He is in Bucks County prison in lieu of $100,000 bail. Charges against him include aggravated assault, a first-degree felony punishable by up to 20 years in prison.
The victim is in stable condition after undergoing surgery at Aria Torresdale Hospital, police said. The Bucks County Courier Times reported that the victim is a father of three.
Serial killer and Mafia hit man Richard Kuklinski claimed to have murdered a lot of people. To hear him tell it – to the late author Philip Carlo - Kuklinski killed some 200 folks before he was locked up in the 1980s, including Jimmy Hoffa, whose body authorities are trying to find to this day.
Bucks County was apparently where Kuklinski did some of his most gruesome dirty work. Carlo's book, "The Ice Man: Confessions of a Mafia Contract Killer," offers several stories of Kuklinski disposing of a body -- or bodies -- in an unnamed Bucks County cave. Sometimes he left his victims there to be eaten alive by rats.
Or so Kuklinski said. The hit man, who died in prison in 2006, was reportedly a pathological liar.