Archive: April, 2013
Three of Bucks County's 304 polling places will relocate for the May 21 municipal primary election, according to a press release from the county.
One relocation, in Solebury Township, will be temporary, while the two relocations, in Warminster Township, will be permanent. Full details are below.
If you are unsure of your polling place, click here for a locator. A full list of polling stations in Bucks County is available here.
Solebury Township Lower #1

Previous: Solebury United Methodist Church, 2536A Aquetong Rd., New Hope
Now: Thompson Memorial Presbyterian Church, 1680 Aquetong Rd., New Hope

Warminster Township #9

Previous: Warminster Recreation & Education Center, 1101 Little Ln., Warminster
Now: Log College Middle School, 730 Norristown Rd., Warminster

Warminster Township #15

Previous: Warminster Recreation & Education Center, 1101 Little Ln., Warminster
Now: Log College Middle School, 730 Norristown Rd., Warminster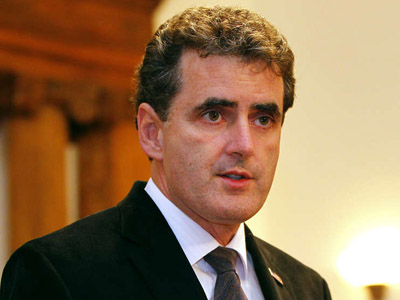 Ever want to work for Congress? Now is your chance. As long as you're a college student.
U.S. Rep Mike Fitzpatrick (R, Bucks) announced today that he is accepting college internship applications. Specific job duties appear to be pending; the press release says that "Fitzpatrick and his staff work hard to respond to the needs of the citizens within our district, and any individual who interns will be called upon to do the same."
The internships are unpaid, according to spokesman Aaron Clark. There is the possibility for internships to count for credit if that is required by the applicant's school, he added.
The BucksFit 5K, to be held at Northampton Township Municipal Park on Sunday, April 28, will donate $2 for every person who finishes the race to a recovery fund supporting survivors and first responders affected by the Boston Marathon bombings.
According to a flier for the event, money will be given to the One Fund Boston, the fund established after last week's attack by Boston Mayor Thomas Menino and Massachussetts Governor Deval Patrick.
A portion of the proceeds will also benefit a local elementary school; students between kindergarten and 6th grade are encouraged to represent their schools, and combined times of the top 5 finishers from each school will determine which school wins. A donation will be given to that school's physical education program, the flier says.
A variety of fundraisers are starting to crop up for Matt Cruz, 16, the Neshaminy High School sophomore who was injured in a bus crash in Boston on Feb. 2, and who remains an inpatient at Magee Rehabilitation Center in Philadelphia, paralyzed from the chest down.
Cruz spoke to reporters on Monday, April 15 - you can find that story, which ran in Monday's Inquirer, here.
At the press conference, his lawyers said that a trust has been set up to help pay for modifications to Cruz's home, which will have to be made wheelchair accessible. Donations can be sent to the Bucks First Federal Credit Union, 2104 Bath Rd., Bristol, Pa., 19007.