Archive: March, 2012
Three Trenton men who thought Levittown musician Danny DeGennaro had drug money are in custody, charged with first-degree murder in the botched robbery attempt, Bucks County authorities said Friday.
Breon Powell, 21, of West Hanover Street, turned himself in to Bristol Township police Friday afternoon, and was arraigned on charges of murder, robbery, burglary, conspiracy and possession of a weapon, Bucks County District Attorney David Heckler said.
Jermaine Jackson, 20, of Pennington Avenue, and Kazair Gist, 19, of Martin Luther King Bouklevard, were arrested Thursday by federal marshals executing a Bucks County warrant. They face the same charges as Powell, and Heckler said he did not know when they would be extradited.
Three suspects in the killing of Levittown musician Danny DeGennaro are expected to be arraigned on first-degree murder charges at 5 p.m. Friday, authorities said.
Jermaine Jackson and Kazair Gist were arrested Thursday in New Jersey, and Breon Powell was expected to turn himself in at 4 p.m., authorities said. If Powell does turn himself in, all three will be arraigned before District Justice Robert L. Wagner Jr. in Levittown, authorities said. Otherwise, the two men in custody will be arraigned and a warrant will be issued for Powell's arrest.
DeGennaro was killed in his Bristol Township home on Dec. 28 during a botched robbery by three men and two women. The two women, Danasia Bakr, 17, of Falls Township, and Tatyana Henderson, 18, of Bensalem, waited outside the house on Crabtree Drive while two men went inside to rob the popular guitar player and song writer, according to court documents.
A Middletown Township police officer has been cleared in the fatal shooting of a knife-wielding man in what the Bucks County District Attorney called "a matter of suicide by cop."
Michael Devine, 64, lured Patrolmen Joseph Schuck and Joseph Buckley to his home about 3:30 a.m. on Feb. 23 with a 911 burglary call, David Heckler said Wednesday. Wearing a hooded sweatshirt and brandishing a large carving knife, he approached the officers, yelling, "I'm going to kill you," and ignoring orders "to get down on the ground," Heckler said.
When Devine got within a few feet of Buckley, the officer shot him once in the hand and chest, Heckler said. The retired Neshaminy School District custodian died shortly after at St. Mary Medical Center.
The case of a Bristol Borough man on death row for gunning down two men outside his former workplace in 2008 is back in Bucks County Court to determine whether he is mentally competent for an appeal.
Robert Diamond, 36, has shown paranoid schizophrenic behavior since he has been in state prison following his guilty plea in 2009, forensic psychologist John O'Brien testified Wednesday on his behalf.
"His responses on the surface are reasonable, but his answers to follow-up questions are disorganized and difficult to understand," O'Brien said. "He is not able to engage in rational and reasonable conversations."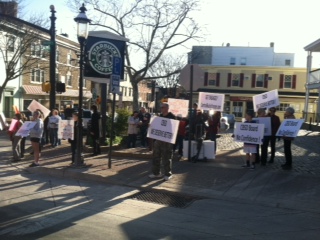 About 50 parents, students and other community members staged a rally in Doylestown Borough early Tuesday evening to protest changes to the Central Bucks School District curriculum.
The district plans to cut computer classes in the five middle schools and to restrict the number of electives 7th, 8th and 9th graders can take to provide more time on core subjects.
About half of protesters were students, many who chanted, "Save our schools."
Parents, students, and other members of the Central Bucks School District have scheduled a Rally for Education from 5:30 to 6:30 today in Doylestown Borough to oppose changes to the middle-school curriculum starting next year.
Opponents of the district's move to eliminate computer applications as a class and to limit the number of electives middle-school students can take are seeking to get the changes tabled, parent Mary Bingler said. The rally will precede the regularly scheduled school board meeting at 7:30 p.m. at the Educational Services Center on Weldon Drive.
The school board has approved the administration's plan to eliminate one class period a day and lengthen each of the remaining six periods by 10 minutes. The additional time will help students learn the core subjects of math, science, English, reading, Social Studies and world language, the administration has said. Computer skills will be taught in the core classes.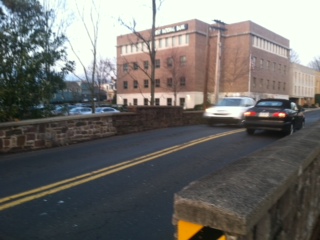 Reconstruction of one of the oldest bridges in Bucks County has been put on hold while PennDOT officials review residents' concerns that the work would destroy the span's historical significance.
"We're hoping they [PennDOT] will come back and give it the treatment it truly deserves," Newtown Borough architect Larry Fink said Monday about the Centre Avenue Bridge, which connects Newtown Borough and Township. "If nothing else, this has made residents aware of how historically significant it really is."
The two-lane bridge, which is on the National Register of Historic Places, is one of the oldest spans in the state and one of the oldest structures in the country. It was built in 1796 with money raised from the sale of lots on the town common laid out by William Penn.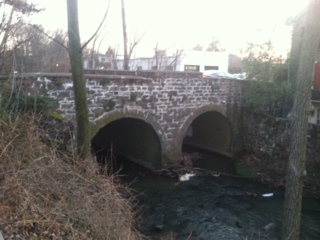 March 2, 2012
Monica Harrower
Cultural Resource Specialist
PennDOT, District 6-0
7000 Geerdes Boulevard
King of Prussia, PA
RE: NEWTOWN CENTER STREET STONE ARCH BRIDGE
Over Newtown Creek, Newtown Boro & Twp, Bucks Co.
MPMS# 93439, Key #000183 & #082519