Archive: October, 2012
A Solebury Township family was hospitalized Wednesday morning after they were overcome by carbon monoxide fumes from a gas generator, police said.
A young boy was suffering convulsions when the fire department arrived about 4:40 a.m., Solebury police Chief Dominick Bellizzie said.
The father (no age given); mother, 46; and boys, ages 4 and 7, were being treated at St. Mary Medical Center and were doing well, the chief said. He withheld the victims' names.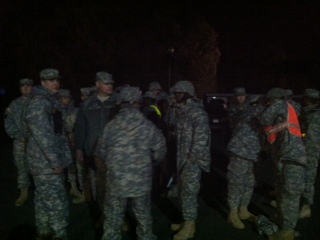 In Bristol Township, the streets were quiet overnight Tuesday, as 10 National Guard troops helped police patrol darkened neighborhoods and watch businesses to thwart burglars.
"We didn't have any incidents at all," police Chief James McAndrew said Wednesday. "I'm hoping their presence stopped any possible burglaries, but we'll never know."
On the first night of the storm, police responded to about 10 burglaries and attempted burglaries of businesses that were without security lighting and alarms. McAndrew requested the National Guard troops on Tuesday because he feared more burglaries of businesses, plus looting of vacant houses, on the second night.
Bucks County is sending teams of Emergency Services workers around the county to assess damages.

The state Department of Conservation and National Resources sent a crew of 20-30 to Bucks to help clear downed trees, and two teams have been sent to each of the hardest-hit spots -- Bristol and Nockamixon townships.

Officials are waiting for PECO's update on the number of customers without electricity. As of last night, there were about 170,000 without power, plus more than 20,000 PPL customers in Upper Bucks.

PECO reported Wednesday that 302,000 customers were without power in Bucks and Montgomery counties.

Early Wednesday, there was a report of a New Hope family overcome by carbon monoxide gas from a generator running n their garage. Two adults and two children on Hillcrest Lane were reported conscious but semi-responsive.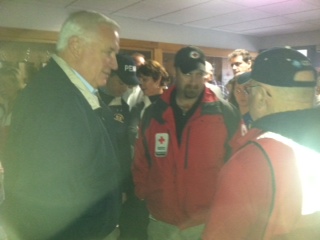 Gov. Corbett toured the Red Cross shelter in Upper Bucks County on Wednesday, where there has been no sign of Met-Ed utility trucks since Sandy barreled through the rural region Monday night.
"We're trying to get you back in your home," the governor said as he talked to residents in the shelter at Palisades High School in Nockamixon Township.
Bucks and Montgomery counties took the brunt of the storm, Corbett said. Bucks had the most homes without power of all the counties in the state.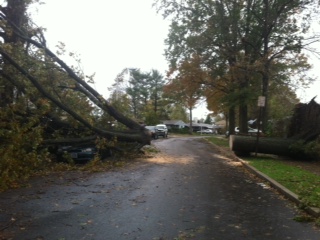 National Guard troops are expected to patrol Bristol Township starting Tuesday night to prevent looting of businesses darkened by superstorm Sandy.
The township also is instituting a 8 p.m.-to- 6 a.m. curfew in the areas without power, "which is almost everywhere," township manager Bill McCauley said.
Township officials requested the National Guard troops about mid-day and were expecting the troops to start patrolling the streets by nightfall, said Emergency Management Coordinator Kevin Dippolito.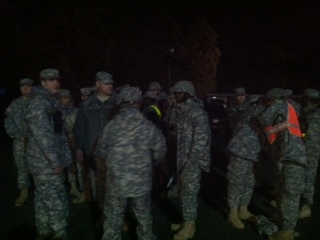 Ten Pennsylvania National Guard troops took to the streets of Bristol Township at 8 p.m. Tuesday, coinciding with a new curfew to thwart burglars in the darkened community.
Eight of the troops rode in Humvees, and two others rode with police "to be our eyes and ears," Chief James McAndrew said.
On the first night of the storm, burglars "were hitting businesses from 3 a.m. until it got bright," he said. "They didn't have to worry about [security] lights or alarms."
Two teenage brothers were seriously hurt and rescue workers were nearly killed when a tree toppled onto a Levittown house Monday night.
Ryan Dietrich, 19, was in stable condition in the intensive-care unit at Aria Health's Torresdale hospital, and Kyle Dietrich, 15, was in stable condition, a nursing supervisor said Tuesday.
Ryan Dietrich suffered a head injury and was in an induced coma, his grandmother, Mary Landis, said. Kyle Dietrich suffered a broken arm, she said.
About 500 to 1,000 Bensalem Township residents were ordered to evacuate homes along Neshaminy and Poquessing Creeks and the Delaware River late Monday morning, in anticipation of flooding from Hurricane Sandy.
Police were notifying residents of 17 streets, plus those in the Lafayette Gardens condo complex and building 75 at the Creekside Apartment complex near Poquessing Creek, Sgt. Andrew Aninsman said in a statement.
Residents of 23 streets near the Neshaminy Creek and seven streets near the Delaware River also were being evacuated, as were those on Galloway Road near the entrance to the Parx Racing stables, Dara Faith Drive and Windsor Drive.