Archive: March, 2012
The Bucks County Commissioners will conduct their regular public meeting at 6 tonight, instead of the usual 10 a.m., to allow residents who are busy during the day to attend.
"We want to try something different," Commissioner Chairman Rob Loughery said last month, when he requested the scheduling change. "This will be a better way to provide access to [members of] the public who cannot come to commissioners' meetings during the day.
The Route 1 South exit ramp to Route 213 (Maple Avenue) outside Langhorne will be closed 9 p.m. to 5 a.m. Monday and Tuesday for drainpipe installation, PennDot reports.
Southbound drivers can exit Route 1 at Bellevue Avenue and take local roads to get onto Route 1 northbound to the Route 213 exit. From the Bellevue Avenue exit, drive to Gillam Avenue and turn right. Turn right onto Route 413 and follow to Bellevue Avenue. Turn right onto Bellevue to the Route 1 North ramp and take to the Route 213 exit.
The work is part of PennDOT's $19.3-million project to rebuild that Route 1 bridge over Route 213 and to realign the ramps. The project is expected to be completed in October 2014.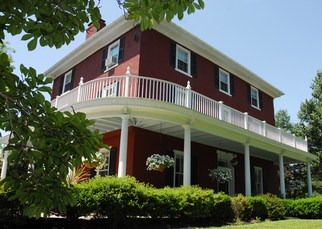 Doylestown's Highland Farm, where Oscar Hammerstein II composed the opening classic song for Oklahoma!, will be open March 23 for tours, talks and a preview of the play by Central Bucks West High School's Harlequin Club.
Hammerstein, inspired by the picturesque Bucks County countryside, wrote "Oh, What a Beautiful Mornin' " on the front porch of Highland Farm. Members of the Harlequin Club will sing the song in costume on the porch one week before they stage the play at the high school.
The open house, scheduled from 4:30 to 8 pm., will also offer presentations about local and theater history and tours of the three-story mansion where Hammerstein and his family lived from 1941 till his death in 1960. The original house at 70 East Road was built in 1740, was replaced in 1840, and is now a B&B.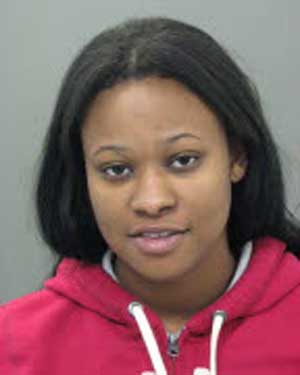 The woman who tried to lure musician Danny DeGennaro out of his Bristol Township house so her accomplices could rob him is in Bucks County Prison on unrelated theft charges, authorities confirmed Thursday.
Tatyana Henderson, 18, of Bensalem, stole $271.87 last month from a Falls Township store with Danasia Bakr, the Falls Township teenager who was charged Tuesday with DeGennaro's murder, according to authorities and court records.
Since Henderson is in prison on $250,000 bail for the alleged theft, "there's no pressure" to charge her yet with the murder, county District Attorney Heckler said.
Matilda Centurione of Doylestown, who celebrated her 105th birthday Monday, said her secret to a happy life is: "I was never mad at nobody."
Centurione, known as Tilly, was surrounded by two granddaughters and friends at the Wesley Enhanced Living retirement home. She has five children, 14 grandchildren, 28 great-grandchildren and two great-great grandchildren.
She enjoys sewing, needlecraft and puzzles and is considered an expert speller.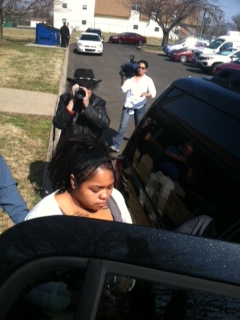 The Morrisville teenager charged with the murder of Levittown musician Danny DeGennaro was arrested last week on an unrelated theft charge, Falls Township police said Wednesday.
And Bensalem lawyer Michael Parlow filed papers to represent Danasia Bakr, 17, one day after she was arraigned on murder, robbery, burglary and conspiracy charges in the Dec. 28 fatal shooting.
Bakr will be treated as a juvenile for the alleged theft, Falls police Lt. Henry Ward said, unlike the DeGennaro case, in which she will be tried as an adult.
A 17-year-old Morrisville woman was charged Tuesday with the murder of Bristol Township musician Danny DeGennaro, and authorities said they are pursuing three of her four co-conspirators in the botched robbery.
A tip from a neighbor of the well known guitar player and songwriter who performed with Kingfish other big-name rock and rhythm-and-blues musicians helped police identify the murder suspects, Bucks County District Attorney David Heckler said.
"We know who you are, and we are coming," Heckler said about the three co-conspirators following the arraignment for Danasia Ameena Bakr of Plaza Boulevard.
The Bucks County District Attorney said Monday he will seek the death penalty for a Bristol Township man charged with the torture and murder of an 18-month-year-old Bensalem girl.
"This is a terrible, terrible tragedy," David Heckler said before the arraignment for Adrian Morgan Allen. "We contend this was an intentional killing, first-degree murder."
The child, called B.A. in court documents, died on March 7, 10 days after she was brought into St. Mary Medical Center unconscious with a severe head injury that required emergency surgery. She also suffered from a broken arm, broken ribs, an adult bite mark on her arm and bruises all over her body, according to the affidavit of probable cause.