Dale Wakefield, a man charged with stabbing to death a homeless man in Doylestown last summer, has been charged with another alleged stabbing; this time the victim is a fellow inmate in Bucks County prison.
Wakefield, who is in the jail awaiting trial on first-degree murder charges, stabbed the prisoner in the face and arms with a ball-point pen, after which he said "white power" and "I'll do it again," according to court documents filed this morning. Wakefield is white. The alleged victim, Jamar Green, is black.
The attack occurred in late February, according to the affidavit filed by county detectives. Green told police after the incident that he and Wakefield were friends who often played pranks on each other, such as throwing water on each other and calling each other names, court records stated.
Police in Bristol Township are still trying to figure out why someone stuffed an envelope with a glass vile of baking soda and mailed it to a bank, disrupting the workday at a mail processing center this morning.
The pre-stamped credit card application was caught in some processing equipment, causing the vile to break, police said. Employees cleared the building and called police. A local HazMat team tested the powder with a portable kit and found it to be baking soda, although the material is still being sent to a lab for a full analysis, police said.
Police are still trying to determine who mailed the letter and why.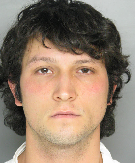 Bensalem Township Police have identified the victim of a fatal stabbing incident on Sunday as Jacob Simmers, 19, from Bensalem.
Simmers was allegedly stabbed twice by 20-year-old Joseph Romano at a home on the 1000 block of Kasmir Avenue and found dead on the kitchen floor by police officers.
According to a criminal complaint, Romano and Simmers were friends, and Simmers had come over to "help" Romano, though the complaint does not specify why.
When Andrew Potts was rushed to the hospital on Monday, a nephew he lived with went through his phone and discovered loads of child porn and what appeared to be sexually explicit text messages with adolescent girls, police said.
Potts' nephew was especially concerned, police said, because his 45-year-old uncle is already a registered sex offender, convicted in 2001 for having unlawful contact with a child in another state. So the nephew called the cops.
Potts is back in jail, charged with possessing child porn while police try to determine whether the recipients of his texts were indeed underage girls, police said. He is in Bucks County prison in lieu of $250,000 bail.
The two Democrats battling to run against U.S. Rep. Mike Fitzpatrick (R, Bucks) in this year's Congressional election will participate in their first public debate on April 15, their campaigns confirmed Thursday.
The face-off between Kevin Strouse, 34, an Army veteran and former CIA employee, and Shaughnessy Naughton, 35, who runs her family printing business, will take place at noon at Bucks County Community College's Lower Bucks Campus, in Bristol, and will be moderated by Bill Pezza, an adjunct politics professor at the college.
It is scheduled to be 75 minutes, according to Jean Dolan, a college spokeswoman.
The preliminary hearing for Nicholas Helman, the Hatboro man accused of sending a scratch-and-sniff birthday card laced with ricin to his ex-girlfriend's new beau, has been postponed until May 15.
The hearing was originally scheduled for Thursday.
Authorities said yesterday that a vial found beneath a gas manhole cover near Helman's Byberry Road apartment - believed to be his leftover stash of ricin - did, indeed, test positive for the toxin.
About 250 bags of heroin and $2,000 in cash was seized from a Warrington Township apartment recently, police announced Wednesday.
Three people were arrested, according to a press release from Warminster Township Police, after the drugs were found in an apartment on the 500 block of Easton Road.
Police did not say how much heroin was in the bags, or when the operation took place, and did not immediately respond to questions.
The case against a Bensalem teen who allegedly raped eight underage girls is headed to county court in Doylestown for a possible trial.
Joshua Ray Benson, 19, waived his right to a preliminary hearing this morning to review the charges against him. He will be formally arraigned in county court next month on felony sexual assault charges.
Benson met his victims on internet dating websites, cultivating friendships before initiating sexual contact, police said. He would then become violently aggressive and assault the girls against their will, court records stated.