Bensalem police said this afternoon that one man is in custody after robbing three banks in Bucks County.
The banks were in Bensalem, Yardley and Morrisville, which is where the alleged robber was caught.
Another police source confirmed that the man took one cab to all three banks.
A Newtown man has been indicted on federal charges that allege he bilked customers at an Asian Bank branch that he worked at by adding fake fees to mortgages and loans.
Horng "James" Dai, 46, faces up to 65 years in jail and a $2.5 million fine.
The indictment outlines seven instances that date back to 2009 in which Dai allegedly charged bogus fees ranging from $200 to $1,300.
The guy who knocked over a TD bank on Tuesday in Bensalem had just gotten out of federal prison for ... you guessed it ... bank robbery, Bensalem police said.
Frank Dennis Hicks, 35, spent nine years in federal prison for robbing six banks in Philadelphia in the early 2000s, police said. He was released on probation on July 29.
Two days after his release, a mandatory drug test revealed cocaine metabolite in his urine, according to federal court documents. He didn't bother visiting his probation officer after that and never moved into a place he told the feds he would live on the 4400 block of Oakmont Street in Philadelphia, court documents stated.
Bank robbers who apparently acted independently of each other knocked over two banks on Street Road in Bensalem this afternoon, police said. One alleged robber has been caught so far.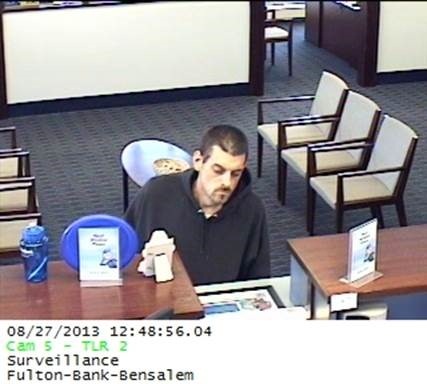 The first robbery occured shortly before 1 p.m. when a man (pictured) walked into the Fulton Bank and gave the teller a note that indicated he had a gun, police said. He then took off with an undisclosed amount of cash and remains on the loose.
The second alleged robber is in custody. He had jumped the counter of a TD Bank shortly after 2 p.m. and snatched some cash before fleeing, police said. Several people chased him. And a dye pack exploded as he fled toward Parx Casino, which is where officers caught him, police said.
Bucks County's most infamous child molester has lost his first bid to get a new trial on charges that he molested 15 kids, including one as young as 4 years old.
In a decision released last week, Bucks County Judge Diane Gibbons rebuked Walter Meyerle's motion for a new trial, although it will proceed to a state appellate court.
Meyerle claimed the trial court made several mistakes. For instance, he alleged that his computer, which contained child pornography, should not have been allowed as evidence because the search warrant contained the wrong serial number.
A Bensalem woman remains in critical condition today after her sister allegedly ran her over with a minivan. The sister is in jail, facing a charge of aggravated assault.
The fight was allegedly over a ride to the Neshaminy Mall.
Anum Raza refused to drive her sister, Redah Raza, saying she had to work, according to the criminal complaint filed against Anum.
Morrisville police are looking for a man who tried to kidnap an 8-year-old girl Monday afternoon but let her go when she bit his hand.
The girl was playing in a heavily traveled alleyway behind the 300 block of W. Bridge Street where children often hangout, police said. A crowd of kids had broken up, leaving only the girl and a younger boy when a man pulled up in a four-door sedan about 4 p.m..
The man grabbed the girl, placed his hand over her mouth and dragged her toward his car. She fought back, kicking and biting the hand he placed over her mouth. He released her and drove off, police said.
Lower Makefield Township's Patterson Farm - county-owned open space that had been the center of a months-long debate about land-use - will have an additional portion of land preserved as farmland, after township supervisors voted Wednesday to approve an agricultural easement on about 93 of the farm's 234 acres.
A similar easement signed in 1999 already protected 71 acres on the farm and limited use of that land to agricultural production-related activities. The easement signed Wednesday will do the same for the additional acreage.
Township supervisor Jeff Benedetto said Thursday that the easement is "good news for the township, it's good news for those wanting to preserve Patterson Farm."