Police are looking to interview four survivors of a weekend car crash that killed their 19-year-old Ivyland friend, to help determine the cause of the accident, Northampton Township Chief Barry Pilla said Monday.
"We haven't talked to them because of their injuries," Pilla said.
"They were just a bunch of guys who went out for pizza."
Bensalem Township police are asking for help identifying a young man and woman suspected of stealing a vehicle, breaking into several other cars, and using stolen credits.
Several vehicles were broken into and a 2009 Nissan Altima was stolen early Sunday in the 200 block of Tremain Road, police said Friday.
According to the police statement:
Jason Long, general manager of The Melting Pot restaurant in Warrington, is up for a huge promotion, and the world can watch him battle for it Sunday on the A&E reality show Be the Boss.
Long, 39, of Doylestown Borough, knows whether he won the top prize , ownership of a Melting Pot franchise, but he's not allowed to give away the results before the show airs at 11 p.m.
The second show of the Be the Boss series pits Long against Terry Love, lead server at The Melting Pot in Louisville, Ky. They're told they are competing for a senior management position – director of team member communications – and are put through a series of challenges by company CEO Bob Johnston.
Rakesh "Rocky" Raina can't wait to congratulate the winner of the $50 million Powerball jackpot, who bought the ticket Wednesday in his lower Bucks County store.
"I love my customers. They are the best customers anywhere," Raina said, as his regulars congratulated and hugged him Thursday.
There was a party atmosphere in the Levittown News & Tobacco shop in the Fairless Hills Shopping Center on South Olds Boulevard, as Raina and his customers waited for the winner to come forward.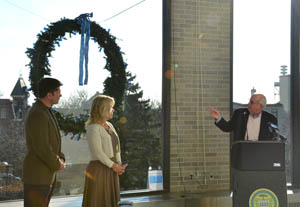 A 6-foot Project Blue Light memorial wreath honoring Bucks County police officers killed on duty will be lit at 1:30 p.m. Thursday at the county Courthouse in Doylestown.
The wreath, lit with blue lights, will be decorated with 12 white ornaments symbolizing the 12 law enforcement officers killed on duty since 1914. For the fourth consecutive year, it will hang in a large rotunda window overlooking the memorial courtyard, visible to those traveling through the center of the county seat.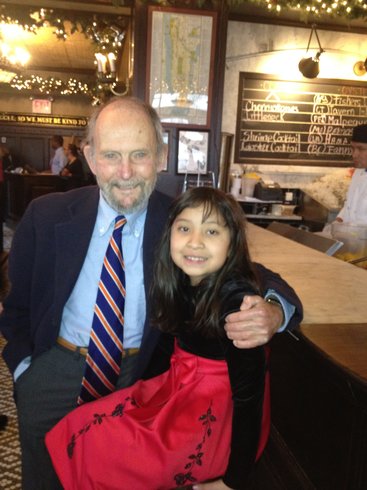 Retired Bucks County Judge Isaac S. "Zeke" Garb, who presided over the controversial Point Pleasant pumping station case that garnered national attention and the William Bradfield "Main Line Murders" case, died Monday after a brief illness.
Judge Garb, 83, of Buckingham, was still handling settlement conferences, bail hearings and bench warrants until 2 ½ weeks before he died, although state law forced him to retire as a full-time judge at age 70.
"He had a great legal mind," county Court Administrator Doug Praul said Wednesday. "There is no one I have ever heard of who compared to him, or will again.
A 17-year-old student at Bucks County Technical High School is in critical condition Thursday morning after being hit by a vehicle in Bensalem Township, police said.
The student was crossing Bensalem Boulevard to get to a bus stop before 7:30 a.m., when he or she was hit, police said.
The school is in Fairless Hills.
State and local police have tracked down 27 drug distributors and dealers selling about $10 million worth of crystal methamphetamine in the Philadelphia area and eastern Pennsylvania, law enforcement officials said Wednesday.
"Operation Blowout" identified a network of distributors and dealers responsible for transporting bulk quantities of meth into Reading and Philadelphia -- as much as a pound of drugs every two weeks," state Attorney General Linda Kelly said at a morning press conference. "The meth was then repackaged into smaller quantities and resold by various associates in an area stretching from Philadelphia and the Lehigh Valley all the way to Lycoming and Tioga counties, near the New York State border in north-central Pennsylvania."
Much of the drugs came from Mexico, officials said, and the ongoing investigation is seeking a second source.

Pennsbury School District's plan to rebalance its three voting regions is preferable to a civic group's proposal to form nine regions, a Bucks County judge has ruled.
The administration's and school board's plan "is free from any taint of arbitrariness or discrimination," Judge Susan Devlin Scott wrote in her decision, dated Nov. 21. The district received the order Tuesday.
The district's plan "is less disruptive to the overall representational scheme because it moves just three precincts out of the 35 precincts … to new regions," Scott ruled. Under the civic group's plan, they admitted that "at least three of the nine current Board members would be unseated."

The Pennsylvania Department of Transportation will conduct a public meeting Thursday about its Route 202 (Poole's Corner) intersection improvement project in Doylestown Borough, Doylestown and Buckingham townships.
PennDOT staffers and the design team will provide an overview of the project and answer questions and concerns from 6:30 p.m. to 8 p.m. at the Doylestown Township Building, 425 Wells Road, Doylestown.