The race is on.
Democratic Congressional candidates Kevin Strouse and Shaughnessy Naughton debated in front of about 200 people at Bucks County Community College Tuesday morning - the second time in two days the candidates have squared off, but perhaps their last formal debate before May's primary election.
Strouse, 34, a former Army ranger and CIA employee, and Naughton, 35, who runs her family printing business, are competing for a shot at unseating incumbent Rep. Mike Fitzpatrick (R, Bucks), a three-term Congressman who represents the Eighth District, which encompasses most of Bucks County and a sliver of northeastern Montgomery County.
A former custodian at Langhorne's Maple Point Middle School was arrested Wednesday for allegedly showing pictures of male genitalia to three teenagers at a screening of the movie Thor 2 in Middletown, according to the Bucks County District Attorney's Office.
Robert Gimello, 25, was charged with unlawful contact with minors and harassment for the alleged incident, which authorities say happened at the United Artists Movie Theater in November.
According to a criminal complaint, Gimello sat in front of thee teenagers, aged 13 and 14, and repeatedly angled his phone so that they could see the lewd pictures on its screen. Gimello would also look back and make eye contact, the complaint says.
The Bucks County District Attorney's Office on Friday said it's seeking the death penalty in the case against Marcel Johnson, a man accused of killing a Bristol Township woman, her unborn child and her four-year-old last fall.
Johnson, 21, of Bristol Township, was formally arraigned in Bucks County on Friday, the deadline for prosecutors to purse capital punishment for the stabbing death of Ebony Talley, 22, who was five months pregnant, and her daughter, R'Mani Rankins, on the week of Thanksgiving.
"It was really not a tough decision [to seek the death penalty]," said Matt Weintraub, chief of prosecution for the DA's office. "There were so many aggravating factors that we had no choice but to seek it."
Two men found guilty in the 2011 killing of Levittown guitarist Danny DeGennaro will have to file formal appeals to have any chance of getting out of jail, after a Bucks County judge on Thursday denied their initial requests to reconsider the verdict.
Breon Powell, 22, and Kazair Gist, 20, both from Trenton, each filed a motion with Judge Rea B. Boylan asserting that the evidence presented during their joint trial last fall was not enough to convict them of first- and second-degree murder.
Powell was found guilty of firing a fatal shotgun blast into DeGennaro's chest during a botched home robbery and is serving a life sentence.
The second of two attempted murder suspecs wanted by Warminster police turned himself in Monday night, hours after the other suspect was arrested outside a Bensalem apartment complex, police said.
Francisco Valentin and Quaemeir Davae Quay Willis, both 21, are now in Bucks County prison on charges including attempted murder. Both man allegedly threatened to kill a man last week, although it's unclear why.
Dale Wakefield, a man charged with stabbing to death a homeless man in Doylestown last summer, has been charged with another alleged stabbing; this time the victim is a fellow inmate in Bucks County prison.
Wakefield, who is in the jail awaiting trial on first-degree murder charges, stabbed the prisoner in the face and arms with a ball-point pen, after which he said "white power" and "I'll do it again," according to court documents filed this morning. Wakefield is white. The alleged victim, Jamar Green, is black.
The attack occurred in late February, according to the affidavit filed by county detectives. Green told police after the incident that he and Wakefield were friends who often played pranks on each other, such as throwing water on each other and calling each other names, court records stated.
Police in Bristol Township are still trying to figure out why someone stuffed an envelope with a glass vile of baking soda and mailed it to a bank, disrupting the workday at a mail processing center this morning.
The pre-stamped credit card application was caught in some processing equipment, causing the vile to break, police said. Employees cleared the building and called police. A local HazMat team tested the powder with a portable kit and found it to be baking soda, although the material is still being sent to a lab for a full analysis, police said.
Police are still trying to determine who mailed the letter and why.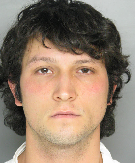 Bensalem Township Police have identified the victim of a fatal stabbing incident on Sunday as Jacob Simmers, 19, from Bensalem.
Simmers was allegedly stabbed twice by 20-year-old Joseph Romano at a home on the 1000 block of Kasmir Avenue and found dead on the kitchen floor by police officers.
According to a criminal complaint, Romano and Simmers were friends, and Simmers had come over to "help" Romano, though the complaint does not specify why.