$100 bills for 100-year-old birthday boy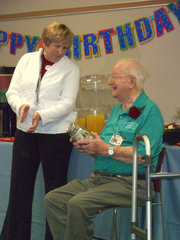 Jack Lindsley likes to keep active by volunteering at Doylestown Hospital, his foire company and his church -- and by playing the slots at Atlantic City.
$100 bills for 100-year-old birthday boy

On the day that Jack Lindsely turned 100, his friends and colleagues at Doylestown Hospital gave him a jar full of 100 dollar bills for his next trip to the casinos in Atlantic City.
At a birhday party Monday for Jack, who has volunteered at the hospital for 20 years, Director of Volunteer Services Karen Langley put his longevity in persepective: when he born in 1911, a used Cadillac cost $75 and a boy's suit cost $16. Jack added that a loaf of bread cost 10 cents and a stamp just a nickel.
Bucks County Commissioner Diane M. Ellis-Marseglia presented Jack with a special proclamation and called him a role model for others. The lifelong Lambertville resident has also volunteered with the Columbia Fire Company in Lambertville for 77 years and is active with his church in Stockton.
As for his secret for reaching 100, he said simply: "I'm just being me."