Matt Cruz is home.
After spending more than three months in hospitals in Boston and Philadelphia following a bus crash in Boston in February, the 16-year old Neshaminy High School sophomore, from Penndel, was discharged from Magee Rehabilitation Center last Saturday.
He remains paralyzed from the chest down, but his release marks an important milestone in what is still set to be a long recovery process.
TEDx, the grassroots-level version of the wildly popular TED Conferences (where speakers deliver presentations on phenomena like body language or lasers that fight malaria), is coming to Solebury School in New Hope on Sunday.
From 9:00 a.m. until 3:00 p.m., students from Solebury and surrounding high schools - including Central Bucks East and Moorestown Friends - will deliver talks on a variety of topics, from "Unacknowledged Women in History," to "After the Track: Second Careers for Thoroughbread Racehorses." (The full program is below.)
While TED conferences feature prominent speakers, such as Bono and Google co-founder Sergey Brin, TEDx events are designed to be similar in the sense that they offer unique, mind-stretching presentations, but they are organized by local groups. Videos of TEDx speeches are often re-watched online; some of the most viewed TEDx talks have received upwards of 10 million views.
St. Mary Medical Center, in Langhorne, hosted several events this week to celebrate its 40th anniversary, according to a press release from the organization.
Employees enjoyed a staff picnic on Wednesday, the release said, and there was a celebration recognizing nursing excellence, a special Mass, health screenings, a raffle drawing and a T-shirt giveaway.
The hospital opened in 1973 on what was then a horse farm, according to the release, and 3,200 people now work at the complex, which has added a variety of services since its inception.
Free admission will be offered to the first 100 visitors at six Bucks County attractions on Tuesday in recognition of National Tourism Day.
The Michener Art Museum, the Pearl S. Buck House & Historic Site, the Bucks County Children's Museum, Giggleberry Fair at Peddler's Village, Pennsbury Manor, and BounceU of Langhorne are all participating in the promotion, which was planned by Visit Bucks County, the county's tourism office.
More information can be found here.
Thursday was a day of high drama in Doylestown, as court proceedings surrounding the locally-made film, The North Star (featuring former Eagles linebacker Jeremiah Trotter), nearly prevented the film's writer and director, Thomas Phillips, from attending its premier at the County Theater. The full run-down of the drama can be found here.
But some comedic relief was found occasionally during the day from an unlikely source: Bucks County Judge Alan Rubenstein.
Rubenstein, the man in charge of deciding whether an injunction should be granted to stop the film from premiering, offered several quips throughout the day-long proceedings that had even the defendants and plaintiffs begrudgingly grinning. Among the best:
The plaintiffs brought a DVD forward as evidence, which they claimed contained a bootlegged copy of the film, but Phillips' attorney said he couldn't be sure the movie was actually on the DVD since he hadn't seen it. Rubenstein deadpanned, "Well, unless he smuggled in a copy of Ben Hur."
When the attorneys were quibbling over the film industry qualifications of a witness' grandfather, Rubenstein interjected: "Let's assume his grandfather was Cecil B. DeMille," the famed director of films such as Cleopatra and The Ten Commandments.
And around 4:15 p.m., five hours after the proceedings began, but with closing arguments still hours away, Rubenstein calmly noted, "By the time we finish this hearing, it'll be on Turner Classic Movies."
The otherwise-methodical contract negotiations between the Pennsbury School District and its teachers union, a dispute dating back to the last contract's expiration in 2010, took an unexpected turn this week when a district board member posted the results of a fact-finding report on his personal website before a waiting period had been lifted.
The board member, Simon Campbell, posted the full report on campbellspeaks.com Tuesday morning, and also created a 4-minute video in which he appears in front of a moonlit cityscape to excoriate the report's recommendations, which he believed were overly favorable toward the union, and which he disliked because it raised the possibility of raising taxes (click here to watch).
In a press release he sent announcing his release of the report, he denounced the fact-finder appointed by the state, Lawrence Coburn, as an "opinion-finder" and said he had no right to tell the board to keep the report private.
Three of Bucks County's 304 polling places will relocate for the May 21 municipal primary election, according to a press release from the county.
One relocation, in Solebury Township, will be temporary, while the two relocations, in Warminster Township, will be permanent. Full details are below.
If you are unsure of your polling place, click here for a locator. A full list of polling stations in Bucks County is available here.
Solebury Township Lower #1

Previous: Solebury United Methodist Church, 2536A Aquetong Rd., New Hope
Now: Thompson Memorial Presbyterian Church, 1680 Aquetong Rd., New Hope

Warminster Township #9

Previous: Warminster Recreation & Education Center, 1101 Little Ln., Warminster
Now: Log College Middle School, 730 Norristown Rd., Warminster

Warminster Township #15

Previous: Warminster Recreation & Education Center, 1101 Little Ln., Warminster
Now: Log College Middle School, 730 Norristown Rd., Warminster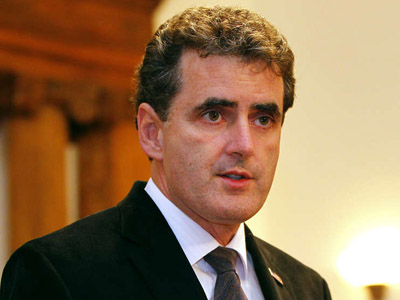 Ever want to work for Congress? Now is your chance. As long as you're a college student.
U.S. Rep Mike Fitzpatrick (R, Bucks) announced today that he is accepting college internship applications. Specific job duties appear to be pending; the press release says that "Fitzpatrick and his staff work hard to respond to the needs of the citizens within our district, and any individual who interns will be called upon to do the same."
The internships are unpaid, according to spokesman Aaron Clark. There is the possibility for internships to count for credit if that is required by the applicant's school, he added.
The BucksFit 5K, to be held at Northampton Township Municipal Park on Sunday, April 28, will donate $2 for every person who finishes the race to a recovery fund supporting survivors and first responders affected by the Boston Marathon bombings.
According to a flier for the event, money will be given to the One Fund Boston, the fund established after last week's attack by Boston Mayor Thomas Menino and Massachussetts Governor Deval Patrick.
A portion of the proceeds will also benefit a local elementary school; students between kindergarten and 6th grade are encouraged to represent their schools, and combined times of the top 5 finishers from each school will determine which school wins. A donation will be given to that school's physical education program, the flier says.
A variety of fundraisers are starting to crop up for Matt Cruz, 16, the Neshaminy High School sophomore who was injured in a bus crash in Boston on Feb. 2, and who remains an inpatient at Magee Rehabilitation Center in Philadelphia, paralyzed from the chest down.
Cruz spoke to reporters on Monday, April 15 - you can find that story, which ran in Monday's Inquirer, here.
At the press conference, his lawyers said that a trust has been set up to help pay for modifications to Cruz's home, which will have to be made wheelchair accessible. Donations can be sent to the Bucks First Federal Credit Union, 2104 Bath Rd., Bristol, Pa., 19007.