Yankees Playoff Walk-Off Homers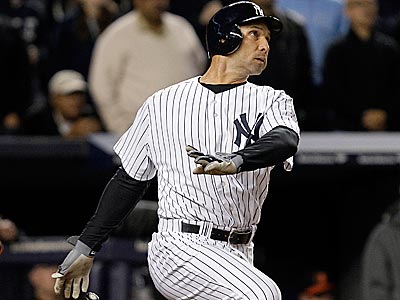 Yankees Playoff Walk-Off Homers
Yankees Playoff Walk-Off Homers

Even if he wasn't a former Phillie, Raul Ibanez's performance Wednesday night — 48 years to the day that Mickey Mantle hit his only career postseason walk-off homer — put on one of the most stirring playoff performances in baseball playoff history.
He became the first player in baseball history to hit
two home runs
in a postseason game that he
hadn't started
. He is now the
oldest player
(40 years, 130 days) to hit a walkoff postseason home run (left).
Here's a look at the Yankees' 12 postseason walkoff home runs (bold indicates a series-winning home run):
| | | | | | | | | |
| --- | --- | --- | --- | --- | --- | --- | --- | --- |
| Player | Date | Rd. | Gm. | Opponent | Inn. | Runs | Outs | Score |
| Tommy Henrich | Oct. 5, 1949 | WS | 1 | Dodgers | 9th | 1 | 0 | 1-0 |
| Mickey Mantle | Oct. 10, 1964 | WS | 3 | Cardinals | 9th | 1 | 0 | 2-1 |
| Chris Chambliss | Oct. 14, 1976 | ALCS | 5 | Royals | 9th | 1 | 0 | 7-6 |
| Jim Leyritz | Oct. 4, 1995 | ALDS | 2 | Mariners | 15th | 2 | 1 | 7-5 |
| Bernie Williams | Oct. 9, 1996 | ALCS | 1 | Orioles | 11th | 1 | 0 | 5-4 |
| Bernie Williams | Oct. 13, 1999 | ALCS | 1 | Red Sox | 10th | 1 | 0 | 4-3 |
| Chad Curtis | Oct. 26, 1999 | WS | 3 | Braves | 10th | 1 | 0 | 6-5 |
| Alfonso Soriano | Oct. 21, 2001 | ALCS | 4 | Mariners | 9th | 2 | 1 | 3-1 |
| Derek Jeter | Oct. 31, 2001 | WS | 4 | D'backs | 10th | 1 | 2 | 4-3 |
| Aaron Boone | Oct. 16, 2003 | ALCS | 7 | Red Sox | 11th | 1 | 0 | 6-5 |
| Mark Teixeira | Oct. 9, 2009 | ALDS | 2 | Twins | 11th | 1 | 0 | 4-3 |
| Raul Ibanez | Oct. 10, 2012 | ALDS | 3 | Orioles | 12th | 1 | 0 | 3-2 |