Willt Week: Day 5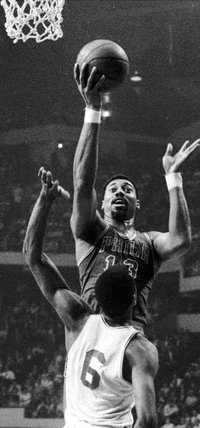 How Wilt and Russell compare in the 10 seasons they both played in the NBA.
Willt Week: Day 5

The Wilt Chamberlain-Bill Russell comparisons are a plenty, but we thought we'd end Wilt Week with our favorite: their totals for the 10 seasons they were both in the league (1959-60 through 1968-69).
Please note that in those 10 seasons, Wilt made more field goals than Russell attempted, made more free throws than Russell attempted, shot 10 percentage points better from the field, outrebounded him by 1.5 a game, nearly matched him assist-for-assist, and had nearly 2½ times more points.
Those 10-year totals:
| | | |
| --- | --- | --- |
| Category | Chamberlain | Russell |
| Games | 787 | 776 |
| Minutes | 36713 | 33412 |
| Min./Game | 46.65 | 43.06 |
| Field Goals | 10962 | 4498 |
| FG Att. | 20694 | 10252 |
| FG Pct. | 53.0% | 43.9% |
| Free Throws | 5174 | 2510 |
| FT Att. | 10057 | 4434 |
| FT Pct. | 51.4% | 56.6% |
| Rebounds | 19112 | 17501 |
| Reb./Game | 24.28 | 22.55 |
| Assists | 3548 | 3588 |
| Ast./Game | 4.51 | 4.62 |
| Points | 27098 | 11506 |
| Pts./Game | 34.43 | 14.83 |