Which Chase Returns?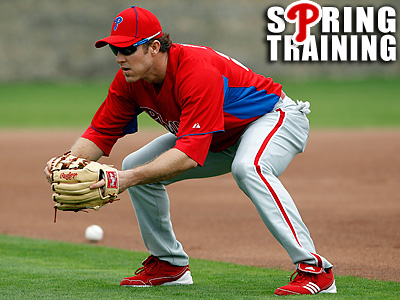 How good will Chase Utley be when (if?) he returns?

Which Chase Returns?

The question of "when" Chase Utley returns is one of the problems the 2012 Phillies are facing, but the more important question may be "which" Chase Utley returns.
His nine-season major league career to date, breaks down neatly into a trio of three-year segments. And it doesn't take much to see that his production over the last three seasons is much closer to his first three (two of which were spent as a part-time major leaguer) than the middle three seaons (2006-08), when he was among baseball superstars.
Here are how Utley's career regular season numbers break down:
| | | | |
| --- | --- | --- | --- |
| | 2003-05 | 2006-08 | 2009-11 |
| Games | 284 | 451 | 374 |
| Batting Avg. | .276 | .310 | .273 |
| Hits-AB | 261-944 | 556-1795 | 381-1394 |
| On-Base Pct. | .350 | .388 | .380 |
| Walks | 95 | 177 | 190 |
| Strikeouts | 171 | 325 | 220 |
| SO Pct. | .181 | .181 | .158 |
| Slugging Pct. | .496 | .542 | .465 |
| Total Bases | 468 | 972 | 648 |
| Home Runs | 43 | 87 | 58 |
| HR/At-Bat | .046 | .048 | .042 |
| Runs Prod./Gm.* | .099 | 1.26 | 1.03 |
| Runs | 142 | 348 | 241 |
| RBI | 183 | 309 | 202 |