Vance Worley Chasing Lefty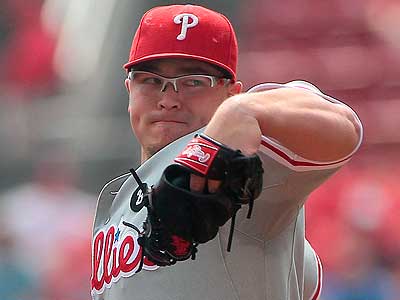 Phils have won Vance Worley's last 13 starts.
Vance Worley Chasing Lefty
The Phillies have won each of Vance Worley's last 13 starts, the second-longest such streak in club history. The longest was in 1972, when the club won 15 consecutive starts by Hall of Famer Steve Carlton. Both of those runs are below.
Noteworthy: The last loss in a Worley start was May 29 when the Mets roped him for 12 hits and 8 runs in 3 innings ... The bookend losses surrounding the Carlton run were June 16 at the Astros (a 1-0 loss that was a no-decision for Lefty) and a 2-1, 11-inning loss to the Braves on Aug. 21 (a Carlton complete game) ... The victories during Carlton's streak were the last 13 of his 15-game winning streak and Nos. 6 through 20 on the season. Yes, he won his 20th game on Aug. 17 ... Worley has one complete game in his run; Carlton completed 13 of his 15.
VANCE WORLEY (2011)
Date
Opponent
Result
Dec.
IP
H
R
ER
HR
BB
SO
June 18
at Mariners
W 5-1
—
5.0
5
1
1
1
2
3
June 24
Athletics
W 1-0
—
6.0
1
0
0
0
4
4
June 29
Red Sox
W 2-1
W
7.0
5
1
1
0
2
5
July 4
at Marlins
W 1-0
W
7.0
2
0
0
0
2
6
July 15
at Mets
W 7-2
W
5.1
4
1
1
0
4
4
July 20
at Cubs
W 9-2
W
8.0
4
1
1
0
2
7
July 26
Giants
W 7-2
W
9.0
3
2
2
1
1
5
July 31
Pirates
W 6-5
—
6.0
7
4
4
1
0
7
Aug. 5
at Giants
W 9-2
W
7.0
7
2
2
1
1
6
Aug. 10
at Dodgers
W 9-8
—
4.0
7
6
6
1
3
6
Aug. 18
Diamondbacks
W 4-1
—
3.0
1
0
0
0
0
2
Aug. 23
Mets
W 9-4
W
7.0
5
1
1
0
1
9
Sept. 1
at Reds
W 6-4
W
6.0
8
4
4
1
1
7
Totals (8-0, 2.58; Opp. BA: .206)
80.1
59
23
23
6
23
71
STEVE CARLTON (1972)
Date
Opponent
Result
Dec.
IP
H
R
ER
HR
BB
SO
June 21
at Braves
W 9-7
—
5.0
9
5
5
1
1
4
June 25
at Expos
W 1-0
W
9.0
4
0
0
0
3
8
June 29
Mets
W 9-4
W
9.0
7
4
4
0
6
13
July 3
Giants
W 4-2
W
9.0
6
2
2
2
2
7
July 7
Padres
W 4-2
W
9.0
9
2
2
0
1
8
July 11
Dodgers
W 4-1
W
9.0
5
1
0
0
1
8
July 15
at Giants
W 11-4
—
5.0
5
4
4
2
1
5
July 19
at Padres
W 3-2
W
11.0
7
2
2
0
4
8
July 23
at Dodgers
W 2-0
W
9.0
5
0
0
0
1
6
July 28
Cubs
W 2-0
W
9.0
4
0
0
0
1
7
Aug. 1
at Mets
W 4-1
W
9.0
5
1
0
0
1
5
Aug. 5
at Cardinals
W 5-0
W
9.0
5
0
0
0
1
7
Aug. 9
at Pirates
W 2-0
W
9.0
3
0
0
0
1
12
Aug. 13
Expos
W 2-1
W
9.0
3
1
1
1
3
8
Aug. 17
Reds
W 9-4
W
9.0
7
4
4
0
4
2
Totals (13-0, 1.67; Opp. BA: 1.87)
129.0
84
26
24
6
31
108