Vance "Early" Worley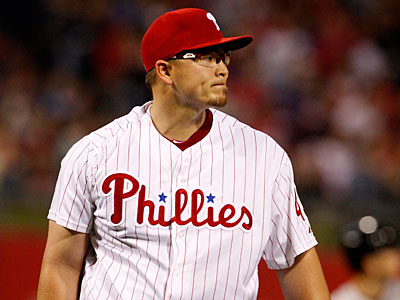 Vance Worley's 2012 numbers dip as he goes deeper into games.
Vance "Early" Worley

No matter how you slice it — the inning, the number of times through the lineup or the number of pitches thrown — Phillies' starting pitcher Vance Worley seems to lose some of his effectiveness the deeper he goes into games this season.
Worley is slated to start Wednesday afternoon against the Brewers.
The breakdowns (according to baseball-reference.com):

PA

ERA
Opp.
Avg.
Opp.
OBA
Opp.
Slg.
Innings 1-3
183
2.25
.217
.276
.301
Innings 4-6
206
5.11
.307
.375
.520
Innings 7-9
24
7.71
.381
.458
.667
Batter's 1st PA
150
—
.216
.284
.299
Batter's 2nd PA
140
—
.268
.333
.455
Batter's 3rd PA
115
—
.343
.404
.549
Batter's 4th PA
8
—
.286
.375
.714
Pitches 1-25
92
—
.222
.315
.321
Pitches 26-50
110
—
.240
.280
.310
Pitches 51-75
105
—
.303
.380
.528
Pitches 76-100
84
—
.316
.369
.513
Pitches 101+
22
—
.300
.364
.700