Turnovers Times Two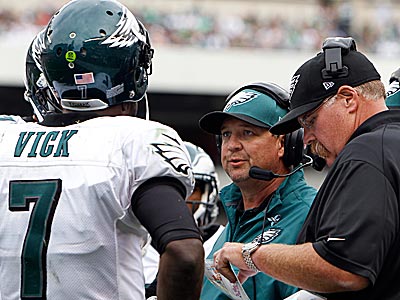 Eagles eighth NFL team to start 2-0 with 4+ turnovers in each win.
Turnovers Times Two

The Eagles are the eighth team since 1940 to start a season 2-0 despite committing four or more turnovers in each victory. The most recent to do so was the 1983 Rams, so long ago that the Rams were still in Los Angeles.
Among the seven previous teams were two NFL champions, albeit champions of the NFL before my time and probably yours (1945 Cleveland Rams, 1950 Cleveland Browns).
Among the eight teams, the Eagles had the fewest takeways in those first two games (6):
Those eight teams (*AFL; NFL title teams in bold):
GAME 1 TOs

GAME 2 TOs

SEASON TOs

Season

Year
Team
Own
Opp
Own
Opp
Own
Opp
Record
1944
Rams
4
5
5
4
41
44
4-6
1945
Rams
4
5
4
4
38
44
9-1
1950
Browns
4
5
4
4
33
55
10-2

1963*
Raiders
4
10

4
5
57
50
10-4
1965*

Oilers
5
5
4
5
46
40
4-10
1981
Falcons
4
4
4
5
41
46
7-9
1983
Rams
5
5
5
3
47
44
9-7
2012
Eagles
5
4
4
2
—
—
—