The Returns of Buddy Ryan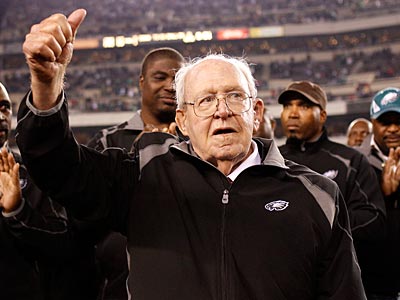 Birds' defense scores again for Buddy.
The Returns of Buddy Ryan

How fitting was it that on the night they honored Buddy Ryan, the Eagles' defense scored a touchdown.
In his five seasons as head coach here, his defense hit paydirt nine times. Ten if you include defensive end Clyde Simmons' overtime return of an Eagles' missed field goal attempt against the Giants.
Those 10 TDs:
Date
Return Type
Player
Opponent
Yds.
Sept. 13, 1987
Fumble
Reggie White
at Redskins
70
Sept. 20, 1987
Fumble
Seth Joyner
Saints
18
Nov. 20, 1988
Own Blocked FG
Clyde Simmons
at Giants
15
Sept. 10, 1989
Interception
Eric Everett
Seahawks
30
Dec. 3, 1989

Fumble
Interception
Andre Waters
Clyde Simmons
at Giants

3
60
Nov. 12, 1990

Interception
Fumble
William Frizzell
Clyde Simmons
Redskins

30
18
Nov. 25, 1990
Interception
Byron Evans
Giants
23
Dec. 23, 1990
Interception
Eric Allen
Cowboys
35