The Philly 600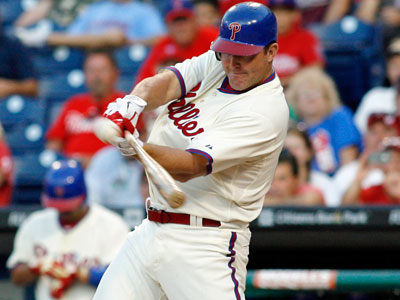 Philadelphia's 600-home run club.
The Philly 600

Walking through the Citizens Bank Park parking lot Saturday after Jim Thome's 609th career home run had given the Phillies' a dramatic 7-6 victory, I couldn't help but wonder how rare it must be to see a player hit a home run that added to a career total already that high in Philadelphia.
Not as rare as I thought.
It turns out that their have been 17 home runs hit in the city by players whose career total had surpassed Thome's. And the great Babe Ruth has most of them:
| | | | | |
| --- | --- | --- | --- | --- |
| No. | Player | Date | Stadium | Pitcher |
| 609 | Jim Thome | June 23, 2012 | Citizens Bank Park | Rays' Jake McGee |
| 612 | Babe Ruth | April 12, 1932 | Shibe Park | A's George Earnshaw |
| 613 | Babe Ruth | April 12, 1932 | Shibe Park | A's George Earnshaw |
| 623 | Hank Aaron | Aug. 3, 1971 | Veterans Stadium | Phils' Chris Short |
| 626 | Babe Ruth | June 3, 1932 | Shibe Park | A's George Earnshaw |
| 645 | Willie Mays | Aug. 28, 1971 (1) | Veterans Stadium | Phils' Dick Selma |
| 648 | Willie Mays | May 21, 1972 | Veterans Stadium | Phils' Steve Carlton |
| 649 | Hank Aaron | June 10, 1972 | Veterans Stadium | Phils' Wayne Twitchell |
| 655 | Babe Ruth | April 27, 1933 | Shibe Park | A's Sugar Cain |
| 664 | Babe Ruth | June 8, 1933 | Shibe Park | A's Bobby Coombs |
| 665 | Babe Ruth | June 10, 1933 (1) | Shibe Park | A's Lefty Grove |
| 666 | Babe Ruth | June 10, 1933 (1) | Shibe Park | A's Lefty Grove |
| 681 | Hank Aaron | May 5, 1973 | Veterans Stadium | Phils' Steve Carlton |
| 687 | Babe Ruth | April 18, 1934 | Shibe Park | A's Tim McKeithan |
| 689 | Barry Bonds | Aug. 13, 2004 | Citizens Bank Park | Phils' Amaury Telemaco |
| 695 | Babe Ruth | June 3, 1934 | Shibe Park | A's Sugar Cain |
| 713 | Barry Bonds | May 7, 2006 | Citizens Bank Park | Phils' Jon Lieber |
| 723 | Hank Aaron | June 4, 1974 | Veterans Stadium | Phils' Eddie Watt |