The Mayberry Post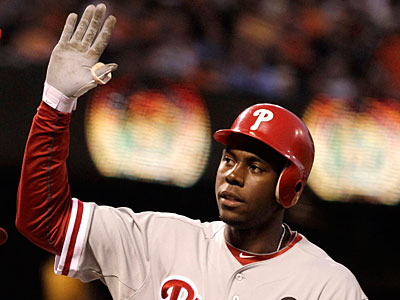 John Mayberry's stats projected out.
The Mayberry Post

A few weeks back, a commenter suggested looking at John Mayberry's numbers projected out to the same number of plate appearances that Ryan Howard had. Since Howard sat out Thursday with a cramped hand and Mayberry homered (seen rounding the bases at left), we thought this was as good a time as any.
And, as it turns out, Mayberry's projected numbers are very close to the stats that Howard has actually put up. More than anything, that tells us it just might be time to give JM Jr. a chance to validate those projections.
| | | | |
| --- | --- | --- | --- |
| | Mayberry | Mayberry | Howard |
| | Actual | Projected | Actual |
| Plate App. | 194 | 519 | 519 |
| At-Bats | 179 | 479 | 451 |
| Runs | 22 | 59 | 66 |
| Hits | 47 | 126 | 115 |
| Doubles | 13 | 35 | 36 |
| Triples | 0 | 0 | 1 |
| Home Runs | 10 | 27 | 26 |
| RBI | 34 | 91 | 95 |
| Walks | 13 | 35 | 57 |
| Strikeouts | 38 | 102 | 135 |
| Batting Avg. | .263 | .263 | .255 |
| Slugging Pct. | .503 | .505 | .490 |