Starting at Short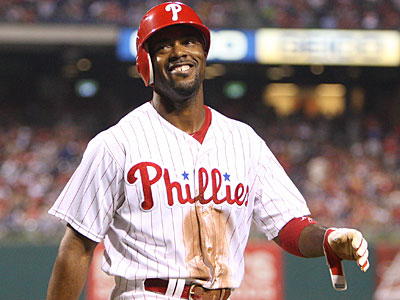 Phillies starting shortstops since 1970.
Starting at Short

Monday night, Jimmy Rollins played his 1,730th game at shortstop for the Phillies, tying Larry Bowa for the Phillies' all-time record. He is still seven starts away from tying Bowa for games started at that position.
Since Bowa made his major league debut in the 1970 season opener, the Phillies have played 6,793 regular season games. He and Rollins have started more than half of them (3,425). A total of 51 other players have started the other 3,368.
Here is the complete list of players starting at shortstop for the Phillies since 1970:
Player
GS
Player
GS
Player
GS
Larry Bowa
1716
Rod Booker
32
Nick Punto
6
Jimmy Rollins
1709
Mike Benjamin
30
Ken Jackson
5
Kevin Stocker
529
Joe Millette
28
Freddy Galvis
4
Steve Jeltz
498
Dale Sveum
26
David Doster
3
Ivan DeJesus
436
Juan Castro
26
Abraham Nunez
2
Dickie Thon
402
Kevin Sefcik
21
John Vukovich
2
Desi Relaford
291
Jackie Gutierrez
15
Danny Sandoval
2
Alex Arias
146
Kevin Elster
14
Alex Gonzalez
2
Luis Aguayo
129
Ramon Aviles
14
Mickey Morandini
1
Mariano Duncan
104
Derrel Thomas
13
Alan Bannister
1
Kim Batiste
80
Ken Dowell
13
Shane Turner
1
Tomas Perez
74
Domingo Cedeno
12
Charlie Hayes
1
Wilson Valdez
70
Kiko Garcia
11
Placido Polanco
1
Terry Harmon
69
Rudy Meoli
11
Greg Legg
1
Juan Bell
65
Bud Harrelson
10
Todd Cruz
1
Tom Foley
57
Michael Martinez
10
Miquel Cairo
1
Craig Robinson
43
Julio Franco
8
Mike Buskey
1
Eric Bruntlett
39
Mike Schmidt
7