Ryan Howard's Hands-On Report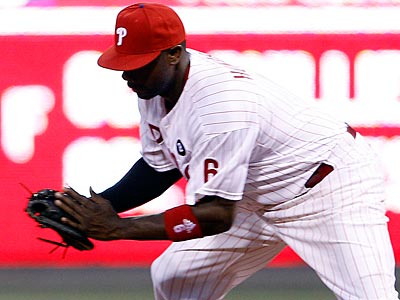 Ryan Howard's fielding has dropped off in recent weeks.
Ryan Howard's Hands-On Report

On June 14, after having handled the first 642 chances of the season flawlessly, Ryan Howard committed his first error of 2011. Since then, he has committed six errors in 36 games (covering 336 chances), including one Wednesday night.
Despite the recent glovial dropoff, his fielding average (.994) would still be a career-high for a full season. Of course, we'd be remiss if we didn't point out that his worst fielding year (.988) was 2008, when he helped lead the Phillies to a World Series title.
His year-by-year fielding statistics and his numbers by the month for 2011:
| | | | | | | |
| --- | --- | --- | --- | --- | --- | --- |
| Season | G | PO | A | E | TC | Pct. |
| 2004 | 8 | 59 | 6 | 0 | 65 | 1.000 |
| 2005 | 84 | 707 | 40 | 5 | 752 | .993 |
| 2006 | 159 | 1373 | 91 | 14 | 1478 | .991 |
| 2007 | 140 | 1191 | 103 | 12 | 1306 | .991 |
| 2008 | 159 | 1408 | 101 | 19 | 1528 | .988 |
| 2009 | 156 | 1300 | 95 | 14 | 1409 | .990 |
| 2010 | 139 | 1266 | 59 | 14 | 1339 | .990 |
| 2011 | 101 | 922 | 50 | 6 | 978 | .994 |
| Totals | 946 | 8226 | 545 | 84 | 8855 | .991 |
| | | | | | | |
| --- | --- | --- | --- | --- | --- | --- |
| 2011 | G | PO | A | E | TC | Pct. |
| April | 26 | 242 | 8 | 0 | 250 | 1.000 |
| May | 28 | 257 | 9 | 0 | 266 | 1.000 |
| June | 27 | 270 | 21 | 2 | 293 | .993 |
| July | 20 | 153 | 12 | 4 | 169 | .976 |