Ruf vs. Ryan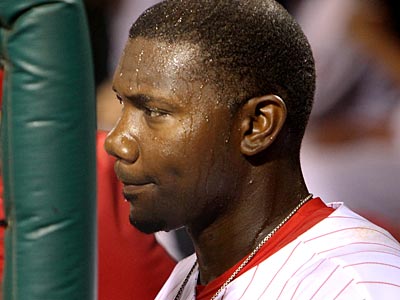 Here's how Darin Ruf and Ryan Howard's 37-homer seasons for Reading compare.
Ruf vs. Ryan

Darin Ruf launched his 37th home run for the Reading Phillies Tuesday (left), tying a club record set by Ryan Howard in 2004. But keep in mind that Howard was promoted to Triple-A Scranton/Wilkes-Barre on July 30 and he cranked another nine homers in 29 games with the Red Barons.
Ruf, who Monday broke Greg Luzinski's Reading record for total bases (the Bull had 287 in 1970), is four homers shy of the Eastern League home run mark of 41.
Here are how Ruf's numbers through Tuesday compare with Howard's 2004 Reading totals:
| | | |
| --- | --- | --- |
| | Darin Ruf | Ryan Howard |
| Season | 2012 | 2004 |
| Age | 25/26 | 24 |
| Games | 133 | 102 |
| Batting Avg. | .317 | .297 |
| H-AB | 148-467 | 111-374 |
| On-Base Pct. | .408 | .386 |
| Walks | 63 | 46 |
| Strikeout | 96 | 129 |
| Slugging Pct. | .625 | .647 |
| Doubles | 31 | 18 |
| Triples | 1 | 1 |
| Home Runs | 37 | 37 |
| Home Run/AB | .0792 | .0989 |
| Total Bases | 292 | 242 |
| Runs | 91 | 73 |
| RBI | 98 | 102 |