Quakers on the Brink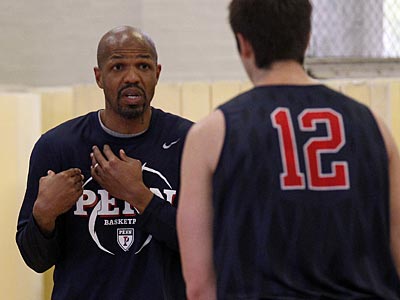 Penn Quakers are on the brink of 1,700 victories.
Quakers on the Brink

With its 65-54 dismantling of Binghamton Wednesday, Penn now needs one win to become the 10th program to notch 1,700 victories all-time.
Those in front of the Quakers represent college basketball royalty and the school immediately behind them is ranked No. 1 in this week's Associated Press poll.
Here's the list:
| | | |
| --- | --- | --- |
| Rk. | School | Wins |
| 1. | Kentucky | 2,094 |
| 2. | Kansas | 2,075 |
| 3. | North Carolina | 2,070 |
| 4. | Duke | 1,978 |
| 5. | Syracuse | 1,848 |
| 6. | Temple | 1,794 |
| 7. | St. John's | 1,741 |
| 8. | UCLA | 1,733 |
| 9. | Notre Dame | 1,723 |
| 10. | Penn | 1,699 |
| 11. | Indiana | 1,697 |