Owls Generating Good Returns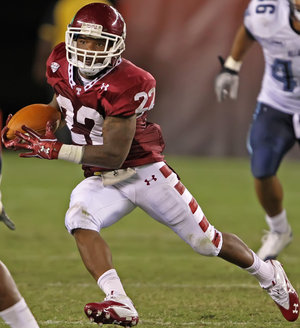 Owls are leading the nation in kickoff return yardage ... again!
Owls Generating Good Returns

Perhaps it is surprising to some to find the Temple Owls leading NCAA Division I-A in average yards per kickoff return. But it shouldn't be.
It was only three season ago that the Owls finished the season atop I-A in that category. If they can hold on, they would be just the fourth team to lead in that category twice in a four-season span (Wyoming, 1948-50; Texas A&M, 1993-94; TCU 1999-2000).
Junior Matt Brown (show above in action against Villanova earlier this season), is averaging 28.1 yards per kickoff return. (He is also averaging 10.6 yards a punt return and has helped the Owls to a No. 22 ranking in that categoty.)
A look at the Owls kickoff return numbers the last four seasons:
Season
Avg.
Rk.
TD
Leaders
No.
Yds.
Avg.
TD
LG
2008

26.60

1

2

Travis Shelton
Jama Schulters
23
12
720
356
31.3
29.7
1
1
92
98
2009
23.85
22
2
James Nixon
Matt Brown
Kee-ayre Griffin
Kevin Kroboth
17
16
8
4
497
385
183
109
29.2
24.1
22.9
27.2
2
0
0
0
100
47
54
33
2010

22.31

52

0

James Nixon
Matt Brown
24
8
561
190
23.4
23.8
0
0
51
55
2011

29.60

1

0

Matt Brown
Joe Jones
12
3
337
107
28.1
35.7
0
0
78
47