Kurt Coleman's Triple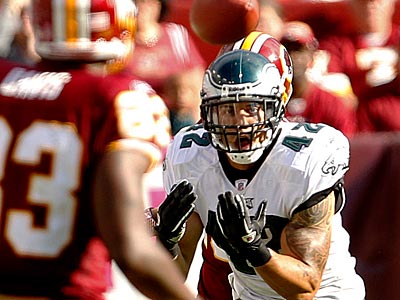 Kurt Coleman is the most recent Eagles with three interceptions in a game.
Kurt Coleman's Triple

Sunday, Kurt Coleman (right) became the first Eagle to nab three interceptions in the same game in 45 years. The complete list is below.
Noteworthy: Coleman is the 10th Eagle with three picks in a game. Roy Zimmerman, the first Eagle to do it, did so twice ... Zimmerman's two three-pick games are the only one of the Eagles' 11 that have come at home ... Russ Craft is the only Bird with four interceptions in the same game. That is the NFL record. He was the fifth of 19 that have done it ... In the same game that Craft picked his four, the Birds' Joe Sutton got three of his own. The team had eight in that contest ... Jim Nettles had three on Dec. 12, 1965, when the Eagles tied an NFL record with nine as a club.
| | | | | |
| --- | --- | --- | --- | --- |
| Int. | Player | Date | Opponent | Result |
| 4 | Russ Craft | Sept. 24, 1950 | at Chicago Cardinals | W 45- 7 |
| 3 | Roy Zimmerman | Dec. 10, 1944 | Cleveland Rams | W 26-13 |
| 3 | Roy Zimmerman | Dec. 9, 1945 | Boston Yanks | W 35- 7 |
| 3 | Gil Steinke | Nov. 10, 1946 | at New York Giants | L 17- 45 |
| 3 | Joe Sutton | Sept. 24, 1950 | at Chicago Cardinals | W 45- 7 |
| 3 | Chuck Weber | Sept. 30, 1960 | at Dallas Cowboys | W 27-25 |
| 3 | Don Burroughs | Dec. 3, 1961 | at Pittsburgh Steelers | W 35-24 |
| 3 | Nate Ramsey | Nov. 28, 1965 | at St. Louis Cardinals | W 28-24 |
| 3 | Jim Nettles | Dec. 12, 1965 | at Pittsburgh Steelers | W 47-13 |
| 3 | Joe Scarpati | Oct. 23, 1966 | at New York Giants | W 31- 3 |
| 3 | Kurt Coleman | Oct. 16, 2011 | at Washington Redskins | W 20-13 |