Former Sixer, All-Star Coach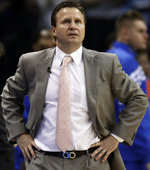 Scott Brooks is another former Sixers to coach in the NBA All-Star Game.
Former Sixer, All-Star Coach

When Oklahoma City's Scott Brooks guides his Western Conference club into Sunday's All-Star Game in Orlando, he'll become the fourth former 76ers player (and seventh in franchise history) to coach in the league's mid-season showcase.
Four of the seven played for the Syracuse Nationals (forerunner to the Sixers), including Larry Costello, who played for the team in both of its locales.
| | | |
| --- | --- | --- |
| Player/Coach | ASG Coach | Played w/Franchise |
| Al Cervi | 1952, 55 | 1949-53 |
| Alex Hannum | 1958, 65, 68 | 1949-51 |
| Paul Seymour | 1961 | 1949-60 |
| Larry Costello | 1971, 74 | 1957-68 |
| Billy Cunningham | 1978-80-81-83 | 1965-72, 74-76 |
| Doug Collins | 1997 | 1973-81 |
| Scott Brooks | 2012 | 1988-90 |