Following Foles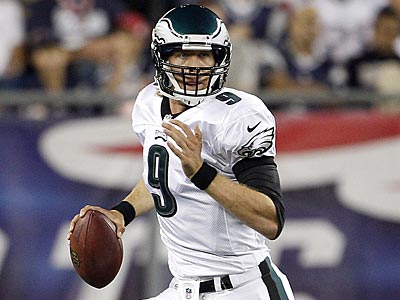 Nick Foles college statistics at Arizona.
Following Foles
Bob Vetrone Jr.
Nick Foles certainly impressed in the Eagles preseason, getting extra duty since Michael Vick lasted just about a nanosecond in each of their first two games.
But maybe it shouldn't have been such a surprise. Foles, who spent his freshman year at Michigan State before transferring to Arizona, put up some great numbers in college.
We were particularly taken with his consistent touchdown-to-interception ratio of 2:1.
Foles' career collegiate numbers:

Year

G

Cmp.

Att.

Pct.

Yds.
Yds.
/Att.

TD
TD
Pct.

Int.
Int.
Pct.

Lg
2007
1
5
8
62.5%
57
7.13
0
0.0%
0
0.0%
22
2009
12
260
410
63.4%
2486
6.06
19
4.6%
9
2.2%
71
2010
11
286
426
67.1%
3191
7.49
20
4.7%
10
2.3%
85
2011
12
387
560
69.1%
4334
7.74
28
5.0%
14
2.5%
54
Totals
36
938
1404
66.8%
10068
7.17
67
4.8%
33
2.4%
85