Easing to the Finish Line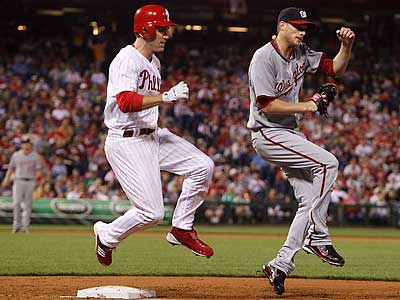 The production of the Phils' offense may have let up, but the pitching has kept pace.

Easing to the Finish Line

Even before their post NL East-clinching slump (six runs in four games since Sept. 18, all losses), the Phillies' offense was off the pace set by the club in July and August, when they averaged over five runs a game.
Thankfully, the pitching was keeping up their end of the deal, holding teams under three runs per game.
Phils' record, runs scored and runs allowed by month, through the clincher:
| | | | |
| --- | --- | --- | --- |
| Month | W- L | Runs/Game | Opponents |
| April | 18- 8 | 4.62 | 3.38 |
| May | 16-13 | 3.69 | 3.59 |
| June | 17-10 | 3.78 | 2.63 |
| July | 17- 8 | 5.52 | 3.76 |
| August | 18- 7 | 5.28 | 2.88 |
| Sept. 1-17 | 12- 6 | 4.11 | 2.94 |