Eagles Taking Offense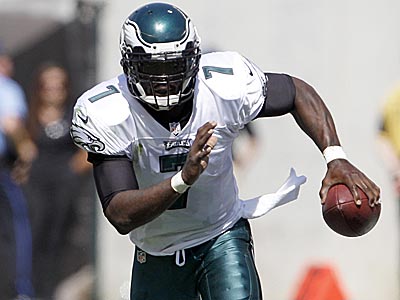 Eagles streak of 36 consecutive games with an offensive TD was snapped in Arizona.
Eagles Taking Offense

When the Eagles' lost to the Cardinals, 27-6, on Sunday, it ended their 36-game streak (including postseason) of scoring at least one offensive touchdown. That was the fourth-longest streak in franchise history, just two games shy of the third-longest but barely a third of the way to the team record of 99, set from 1977 to 1983.
Incidentally, Cardinals defenses have ended three of the six longest streaks in Eagles history:
| | | | | |
| --- | --- | --- | --- | --- |
| Gms. | First Game | Second Game | Broken By | Score |
| 99 | Oct. 2, 1977 | Oct. 16, 1983 | Bears | L 6- 7 |
| 72 | Dec. 3, 1944 | Nov. 26, 1950 | at Giants | L 3- 7 |
| 38 | Dec. 6, 1959 | Nov. 4, 1962 | Packers | L 0-49 |
| 36 | Jan. 9, 2010 | Sept. 16, 2012 | at Cardinals | L 6-27 |
| 34 | Oct. 27, 1991 | Oct. 31, 1993 | at Cardinals | L 3-16 |
| 29 | Nov. 18, 1962 | Nov. 15, 1964 | Cardinals | L 13-38 |