Eagles Pass Pressure Looks Good So Far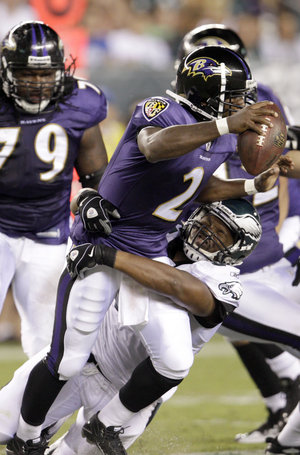 Eagles opened the preseason with six sacks.
Eagles Pass Pressure Looks Good So Far

The Eagles defense registered six sacks in last Thursday's preseason opener against Baltimore. (Darryl Tapp is shown at right getting one of his two.) That is the second-most the Birds have registered in an exhibition game since 2000. (They had seven — also against the Ravens — in a 2006 preseason tilt.)
Yes, we know it was only a preseason game, but six sacks is six sacks. And since the Eagles tend to accumulate more sacks per game in the regular season than the preseason (which they have done eight times in the last 11 years), it bodes well for them to keep up the pressure.
The Birds' defensive sacks per game since 2000:
| | | |
| --- | --- | --- |
| Year | Preseason | Regular |
| 2000 | 1.00 | 3.13 |
| 2001 | 3.00 | 2.81 |
| 2002 | 1.75 | 3.50 |
| 2003 | 1.00 | 2.38 |
| 2004 | 2.25 | 2.94 |
| 2005 | 2.25 | 1.81 |
| 2006 | 4.20 | 2.50 |
| 2007 | 2.25 | 2.31 |
| 2008 | 2.50 | 3.00 |
| 2009 | 1.50 | 2.75 |
| 2010 | 1.50 | 2.44 |