Could Andy Reid's Finale Be a Night Game?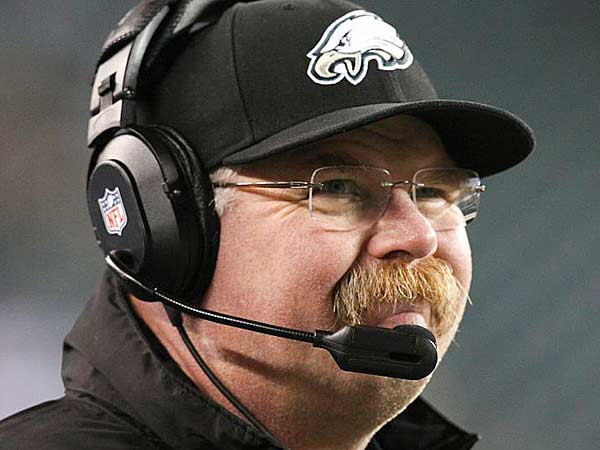 Could Andy Reid's Finale Be a Night Game?
Could Andy Reid's Finale Be a Night Game?

Perhaps the irony is that the Andy Reid era is going to hang on a little longer than we thought after all ... if only for a few hours.
The NFL will enforce its flex scheduling for Week 17 no later than Monday (Merry Christmas Eve!) depending on the playoff possibilities for that weekend. (No night game has yet been scheduled at all; one will move into that NBC slot.) Since so many of the division titles are locked up and the top seeds and byes could be right behind them — and the NFC East title is guaranteed to not be clinched this weekend — Eagles-Giants and Cowboys-Redskins look to be the leaders in the clubhouse to close out the 2012 regular season.
The race for the final (or both) NFC wild-card slots may save us from yet another prime-time Birds event, but there is no denying that having a division title at stake is better for the ratings.
Here's a look at the Week 17 schedule, with records to date and a quick glance at what might be up for grabs in the contest:
Teams
W-L
Notes
Eagles
at Giants
4-10
8-6
NFC East can not be clinched in Week 16, but NFL may
want the division games being played simultaneously
Buccaneers
at Falcons
6-8
12-2
Atlanta can clinch NFC top seed this weekend
Jets
at Bills
6-8
5-9
Two teams going nowhere
Ravens
at Bengals
9-5
8-6
Baltimore can clinch AFC North in Week 16 and may
be out of running for a first-round bye at this point
Bears
at Lions
8-6
4-10
The final NFC wild-card spot can not be clinched in Week 16,
so the Bears could be in play for that
Texans
at Colts
12-2
9-5
Texans (and, yes, I typed "Oilers" at first) could clinch top AFC
seed in Week 16, as could Colts with a wild-card spot
Packers
at Vikings
10-4
8-6
Green Bay may be out of the running for a first-round bye, but
Minnesota could be in the middle of a very muddled wild-card race
Dolphins
at Patriots
6-8
10-4
New England could very easily be locked in as the AFC's No. 3 seed
after this weekend
Panthers
at Saints
5-9
6-8
Two teams getting together to celebrate victories over the Eagles
as little else
Browns
at Steelers
5-9
7-7
Pittsburgh could be eliminatyed from playoff contention in Week 16
Jaguars
at Titans
2-12
5-9
Jacksonville could be in the running for the overall No. 1 draft pick,
but I don't think that's what flex scheduling is all about
Cowboys
at Redskins
8-6
8-6
This might be the best bet for the flex, especially if the Giants
are eliminated from contention for the divsion title in Week 16
Chiefs
at Broncos
2-12
11-3
This season can't end soon enough for Kansas City and the
Broncos may already have a first-round bye sewn up
Raiders
at Chargers
4-10
5-9
The WWE might want to flex this one, but that's about it
Cardinals
at 49ers
5-9
10-3-1
San Francisco could have a bye locked by in Week 16 and
Kevin Kolb is done for the season, so even Andy Reid won;t watch
Rams
at Seahawks
6-7-1
9-5
Seattle could have a playoff spot locked up but the division (and
a home playoff game) will proably be out of reach
What time do you prefer the Eagles to play most of their games?