Charlie Manuel's Milestone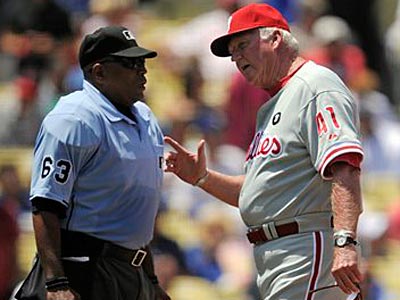 Charlie Manuel is 12th active manager with 1500 games.
Charlie Manuel's Milestone

Friday, Charlie Manuel became the 12th active major league manager to reach 1,500 games. Had the Phillies won (they lost to the Nationals, 4-2), he would have had the best winning percentage among those 12. Instead, Davey Johnson — who just happens to be in the opposing dugout this weekend — moved ahead of Manuel by .0005 of a percentage point.
Those 12 managers and their records through Friday (ties included in games, but not figured in winning percentage):
| | | | | | |
| --- | --- | --- | --- | --- | --- |
| Manager | Current Club | G | W | L | Pct. |
| Davey Johnson | Nationals | 2078 | 1165 | 911 | .5612 |
| Charlie Manuel | Phillies | 1500 | 841 | 659 | .5607 |
| Mike Scioscia | Angels | 1901 | 1045 | 856 | .549 |
| Ron Gardenhire | Twins | 1577 | 855 | 722 | .542 |
| Tony LaRussa | Cardinals | 5054 | 2702 | 2348 | .535 |
| Terry Francona | Red Sox | 1899 | 1012 | 887 | .533 |
| Dusty Baker | Reds | 2809 | 1463 | 1345 | .521 |
| Jack McKeon | Marlins | 1998 | 1035 | 962 | .518 |
| Buck Showalter | Orioles | 1889 | 961 | 927 | .509 |
| Jim Tracy | Rockies | 1532 | 774 | 758 | .506 |
| Jim Leyland | Tigers | 3131 | 1556 | 1573 | .4973 |
| Bruce Bochy | Giants | 2693 | 1338 | 1354 | .4970 |