Phillies Blogathon: Hour 15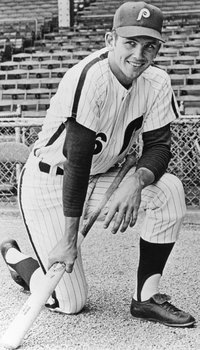 You can't put a price on Hunter Pence's name.
Phillies Blogathon: Hour 15

Ever since the Phillies traded for Hunter Pence in July, we were curious how many players in club history had some sort of monetary/financial reference reflected in either their first or last name.
After browsing throught the Phils' all-time roster we found 45, including Pence (which, by the way, is the British plural of the word penny).
Now, we admit some of these are stretches, but it's a fun list ... so have fun browsing it:
| | | |
| --- | --- | --- |
| Cy Acosta | Oscar Gamble | Jim Poole |
| Rich Ashburn | Eddie Grant | Cody Ransom |
| Tony Barron | Dallas Green | Steven Register |
| Mike Benjamin | Billy Hamilton | Frank Roth |
| Brad Brink | Grant Jackson | Art Ruble |
| Bill Campbell | Freddy Leach | Mac Scarce |
| Dave Cash | Ed Levy | Curt Schilling |
| Chris Coste | Mike Loan | Chris Short |
| Dutch Daulton | Peanuts Lowrey | Eddie Stack |
| Rob Ducey | Don Money (left) | Buck Stanley |
| Brandon Duckworth | Joe Morgan | Kevin Stocker |
| P.J. Forbes | Con Murphy | John Strike |
| Gary Fortune | Greasy Neale | Ben Tincup |
| Julio Franco | Lowell Palmer | Chase Utley |
| Marvin Freeman | Hunter Pence | Mike Welch |