False Starts in Seattle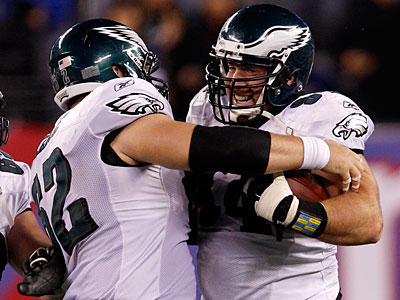 False starting in Seattle.
False Starts in Seattle

Since the beginning of the 2005 season, opponents have been called for more false start penalties (107 in 53 games) at Seattle's CenturyLink Field than in any other NFL stadium. That includes a game in 2006, when the New York Giants were somehow called for 11 of them.
The Eagles have been called for 19 false starts this season, the seventh most in the league and six less than the Carolina Panthers, who have started falsely a league-high 25 times. Surprisingly, only five of the Eagles' 19 false start penalties have come on the road.
Here's how the Eagles' 19 break down by player:
| | | | | |
| --- | --- | --- | --- | --- |
| Jason Peters | 4 | | Kyle DeVan | 1 |
| Jason Kelce | 3 | | Brent Celek | 1 |
| Todd Herremans | 3 | | Riley Cooper | 1 |
| Clay Harbor | 2 | | Chad Hall | 1 |
| Danny Watkins | 2 | | Jason Avant | 1 |