My inbox is buzzing this week with cheerful notes and announcements from publishers whose books have just received a youth media award from the American Library Association. Many prestigious prizes, including the Caldecott and Newbery medals, both awarded by the Association for Library Service to Children, were given out on Monday. If you're shopping for a book for a child or young adult and it has a picture of a medal on it for one of the ALA's awards, you can feel confident you're making a good choice. Cheers for the committed librarians around the country who know their stuff and steer us to good books!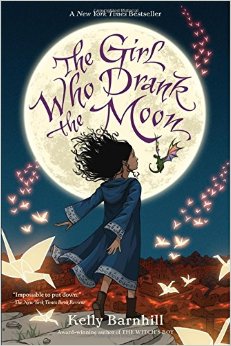 The John Newbery Medal for the most outstanding contribution to children's literature went to The Girl Who Drank the Moon by Kelly Barnhill (Algonquin Books), a New York Times bestseller. As described in the publisher's catalogue, it is "an epic fantasy about a young girl raised by a witch, a swamp monster, and a Perfectly Tiny Dragon who must unlock the powerful magic buried deep inside her." A delightful allegorical romp — and don't we all, child and adult alike, wish to unlock the magic buried within us?
Three Newbery Honors books were also named. The first, Freedom Over Me: Eleven Slaves, Their Lives and Dreams Brought to Life by Ashley Bryan (Atheneum Books for Young Readers) is a gorgeously illustrated story of a group of slaves all working for one household. Their stories are based on an actual bill of sale Bryan found in an archive. From the brief description of the slaves on this document, he built a story for each character. It's powerful stuff, told in a moving and child-appropriate way. This great works caps the career of this prolific author, who is now 93 years old.
The two other Honors books are the charming The Inquisitor's Tale: Or, The Three Magical Children and Their Holy Dog by Adam Gidwitz, illustrated by Hatem Aly (Dutton Children's Books), which provides more fun magical romps, and Wolf Hollow by Lauren Wolk (Dutton Children's Books). This book takes place in a small Pennsylvania town and is about a girl overcoming bullying. Readers have compared it to To Kill a Mockingbird.
The Randolph Caldecott Medal is for the most distinguished American picture book for children. This year's winner is Radiant Child: The Story of Young Artist Jean-Michel Basquiat, written and illustrated by Javaka Steptoe (Little, Brown and Company). The book shows the artist as a young boy finding artistic influences in the world around him and learning that it is ok, maybe even essential, to color outside of the lines.
Caldecott Medal Honors went to:
Leave Me Alone! illustrated and written by Vera Brosgol (Roaring Brook Press);
Freedom in Congo Square, illustrated by R. Gregory Christie, written by Carole Boston Weatherford (Little Bee Books);
Du Iz Tak? illustrated and written by Carson Ellis (Candlewick Press);
They All Saw a Cat, illustrated and written by Brendan Wenzel (Chronicle Books).
March: Book Three, the third in this series of graphic novels created by civil-rights pioneer and Georgia Congressman John Lewis, Andrew Aydin, and Nate Powell, is the winner of the Michael L. Printz Award for excellence in literature written for young adults. Congressman Lewis has been much in the news of late for sparring with the 45th president of the United States, but to learn more about his literary side, watch this video of his acceptance speech when the book won a National Book Award this past November:
There are quite a number of other ALA awards. As the name indicates, they go not only to books but also to other media such as audiobooks and videos. They are given in a range of categories, including books by first-time authors, LGBT books, books that "affirm and celebrate the Latino cultural experience," books about disability, and books translated from other languages. The awards bear well-known names, such as the Andrew Carnegie Medal (children's video), the Laura Ingalls Wilder Award (for an author or illustrator whose books have made a substantial and lasting contribution to literature for children), and the Coretta Scott King Book Awards (for African-American authors and illustrators, new talent, and lifetime achievement).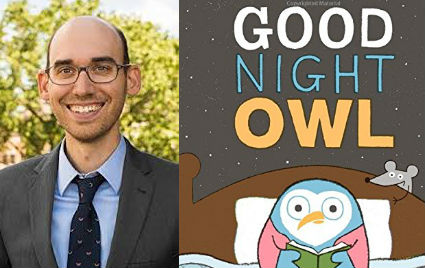 Another award with a famous and beloved namesake is the Theodor Seuss Geisel Award, which is for the most distinguished beginning reader book. One of the Honor books for this award this year is Good Night Owl, written and illustrated by Philly's own Greg Pizzoli, author and illustrator of a number of charming, engaging, and brightly colorful children's books. Way to go, Greg! Here's a trailer for the book:
Congrats to all the winners, be you from Philadelphia or not. We look forward to meeting you in the pages of your books!