In the category of Interesting Jobs You Might Not Have Known About, I submit the following: Author Escort.
Before you start thinking anything kinky, let me explain. When a new book is published, some authors, those lucky few who have big "front-list" books, are sent on promotional tours by their publishers. This can mean a rigorous and exhausting schedule, flying or taking the train from city to city, giving talks and readings at public venues and having media interviews.
Recently, a request came my way to be an author escort for Colson Whitehead during his visit to Philadelphia on September 28th & 29th. I know — you're jealous now, aren't you? I accepted the job, and spent much of those two days driving Whitehead around town, including to his reading at the Free Library of Philadelphia, an interview at WHYY's Radio Times, and another interview at Fox29's Good Day Philadelphia.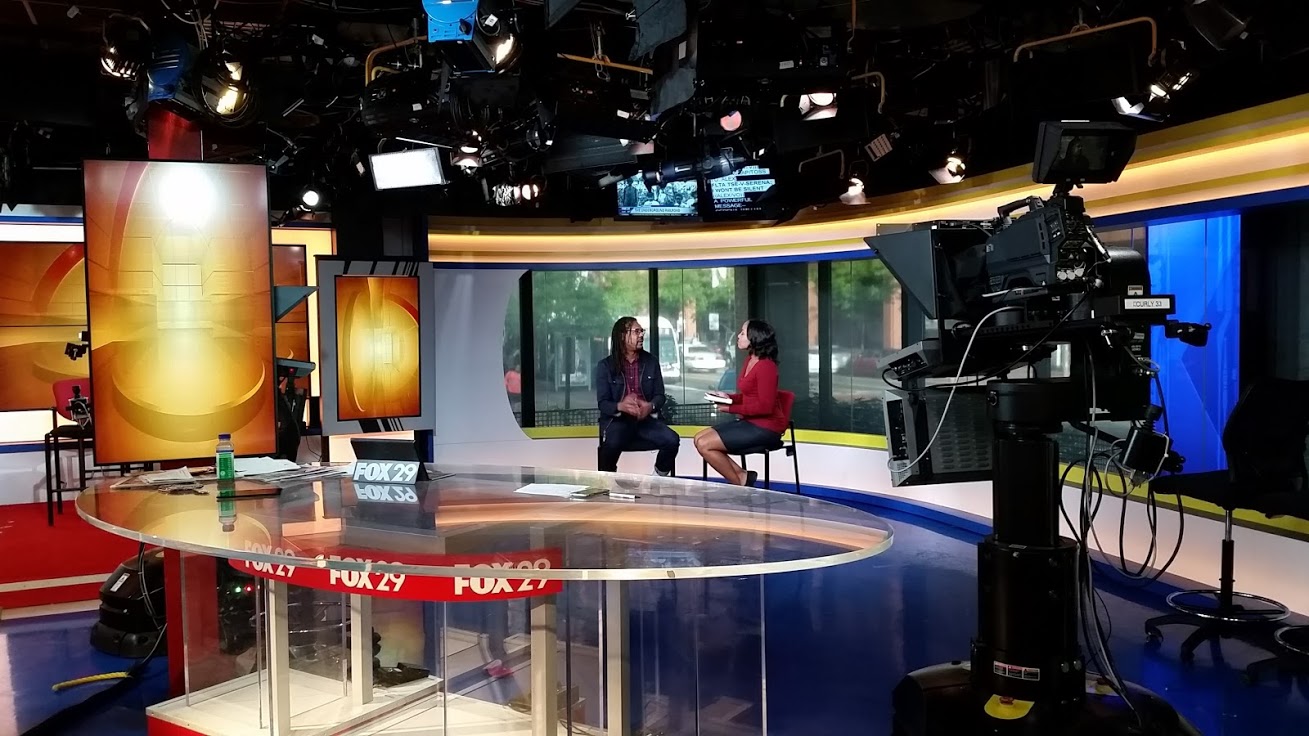 Author Colson Whitehead during his busy stay recently in Philadelphia, sitting down with Lauren Johnson of Fox29's Good Day Philadelphia. My job was to get him there on time, and I did. Photo: Lynn Rosen.
Whitehead's newest novel, The Underground Railroad, just published this past August, is a New York Times bestseller and has been chosen by Oprah for her book club. Needless to say, it's huge. And if you haven't already read it, I suggest you rush out and get a copy (from an indie bookstore!). It's a powerful and well-written story about slavery and race in America (and many other things). It's also great, imaginative, speculative fiction.
The Author Escort job has perks (hanging out with famous authors being the most obvious one), and Whitehead was a perfect gentleman, friendly and interesting as well as interested in our city. The job also has stress: getting the authors where they need to be in a timely way, finding the best route, negotiating traffic, finding parking. It's very much about logistics. But all in the service of promoting great literature!
Ann Deeley-Mattes runs ADM & Associates, an author escort company here in the Philadelphia area, and she has shepherded hundreds of marquee-name authors around town.
Ann Deeley-Mattes of ADM & Associates. Photo: Emmett Mattes.
I asked Ann about her work.
How did you get into the author escort business?
In 1993, I was the events coordinator for Borders Bookshop on Rittenhouse Square, and a new mother. I was looking for a job where I could spend more time at home with my son. I decided to branch out on my own as a freelance literary publicist, which was a perfect way to keep working with authors while working from home. The media or author escort jobs came as a bonus! Love the job, not so much the job title!
Who are some of the big-name authors you have taken care of?
Fiction: Marilynne Robinson, Richard Ford, Nadine Gordimer, John Updike, Toni Morrison, Norman Mailer, John Irving, Jane Smiley.
Athletes: George Forman, Greg Louganis, Lenny Dykstra.
Playwrights: Wendy Wasserstein, Edward Albee.
Nonfiction: Doris Kearns Goodwin.
Musicians: Patti Smith, Rose Ann Cash, Wyclef Jean, Pete Townshend.
Actors: Betty White, Charlton Heston, Peter O'Toole.
Comedians: Lewis Black, George Carlin.
Politicians: Al Gore, Hillary Clinton, Madeline Albright.
Poets: Mary Oliver, Billy Collins, Nikki Giovanni.
Chefs: Lidia Bastianich, Rachel Ray.
Can you share a story or two about something fun and unexpected that happened on the job?
I pride myself on only sharing the positive stories. I try to be the "safe zone" for authors, a place where they are not being interviewed or under the public eye, a place they can relax and have down time between interviews and events. However, here are two stories I'm happy to share.
I have had the great fortune of working with Pulitzer Prize-winner David McCullough on two book tours. In 2005, David and I were walking around Old City and for over 90 minutes, and I got the inside scoop on this country's founding year and our struggles for independence. I remember at one stage I just closed my eyes and listened to David talk. I was in my own private Ken Burns documentary.
My second story is a train ride from Philly to D.C. with Nobel Prize in Literature winner Doris Lessing. We talked about her life, politics, social injustice, The Golden Notebook, her youngest son, and, of course, her cats.