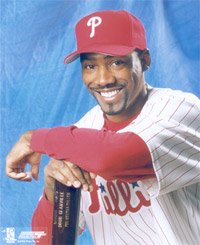 Doug Glanville, who played for the Phillies from 1998-2002 and again in 2004, works mainly out of Chicago now, as a baseball analyst for the local Comcast SportsNet pod. He's sort of the Ricky Bottalico of Post Game Live in Chicago, except instead talking about what's wrong with the Phillies, they talk about what's wrong with the Cubs.
Glanville, a U. of Penn grad who has written regular columns for various publications in the last several years, is working on a collection of baseball essays that will be published next May. Otherwise, pretty much your typical ex-jock.
In an interview with the Chicago Tribune, Glanville gave Philadelphia fans credit for unleashing the best line he ever heard from the stands. (You were expecting Los Angeles?)
You can read the entire article here, but here's the story about the line that really made him laugh:
"When I got traded to Philly, there were a lot of stories about my engineering background and how in my senior thesis I evaluated the transportation feasibility of the Phillies building a new stadium at 30th Street Station. So I did this whole study, and now I'm playing for the team, so it was kind of a cool story about how I designed a stadium. I was really struggling in April the first year I got traded there, and Dykstra was like a god in Philadelphia and I was replacing that guy. Fans weren't too happy with me and my .180 batting average. One of the fans behind me said, 'Hey, Glanville. Why don't you design a stadium you can hit in?'"